Think about the last time you were in a dark room and needed to find something. It would have been much easier if you had a 90-degree flashlight. These flashlights emit light in a specific direction, making them perfect for finding things in tight spaces. Here is everything you need to know about 90-degree flashlights.
The Difference Between Straight and Right Angle Flashlights
Straight Flashlights
A straight flashlight is a type of flashlight that has a long, thin handle and an elongated bulb at the end.
These flashlights provide a more concentrated light beam, making them ideal for reading in low light or searching for lost items.
They are also often used by emergency services and military personnel, as they can use the more focused beam of light to Signal for help or illuminate a specific area.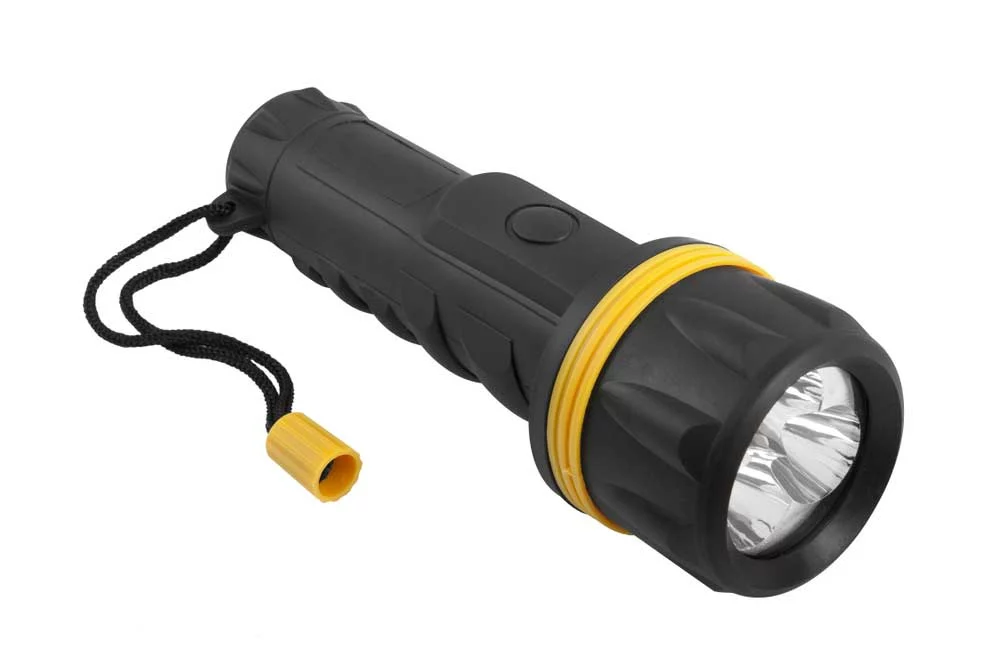 Straight flashlight
Right Angle Flashlights
Right-angled flashlights have a 90-degree mounted light bulb, which allows you to hold the LED flashlight in a more comfortable, upright position.
Rather than providing a concentrated light, it gives off more diffused light in all directions. This approach makes it ideal for several tasks, such as illuminating an entire room or inspecting a car engine.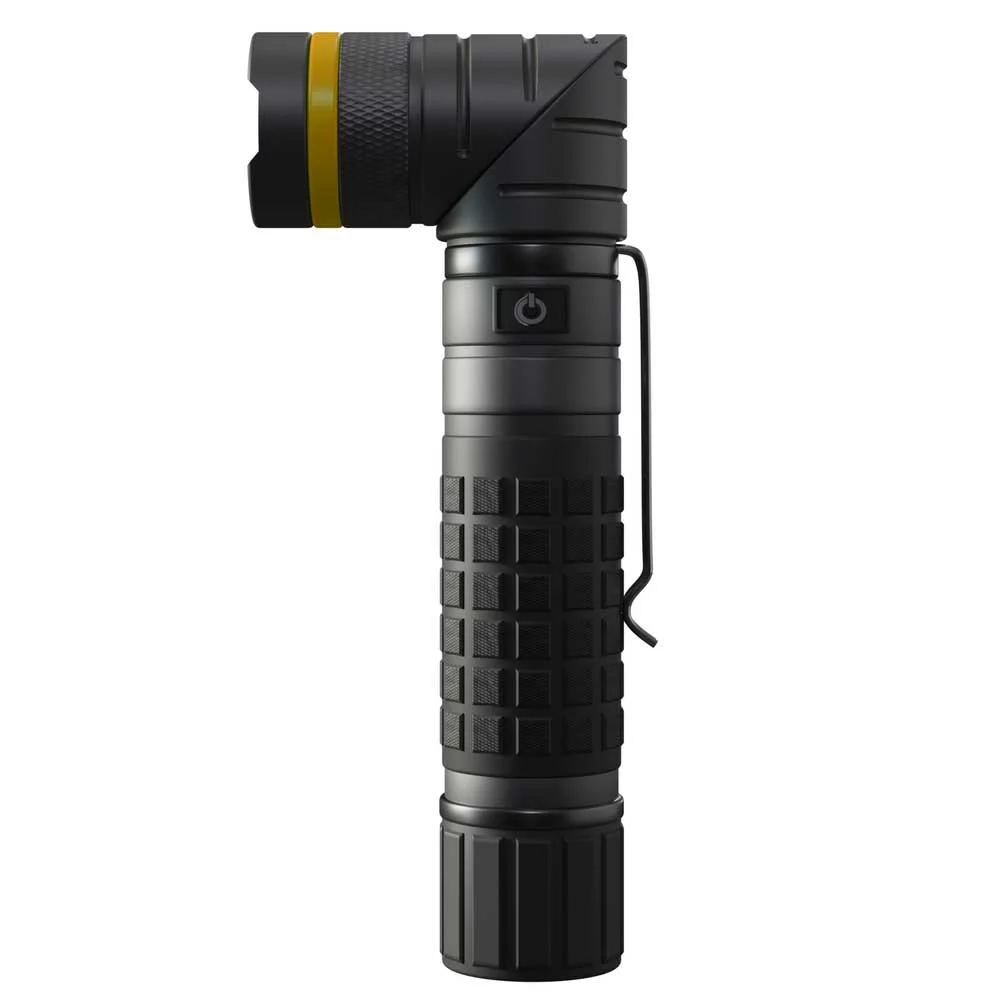 Right angle flashlight
Why Purchase a 90 Degree Flashlight?
Use without hands
Angle flashlights have a regular or magnetic base that allows you to place them on flat surfaces. You can also fix them on your elbow, head, or belt, which frees your hands to do other tasks. 
Use With Comfort
With right-angle LED flashlights, you don't need to twist your wrists or neck or hold your LED flashlight in an awkward position.
With its 90-degree angle, you can hold the light comfortably in various positions and still get an all-angle view of an area.
Durable
Right-angle flashlights have durable materials, such as steel and aluminum, to withstand heavy wear and tear.
Don't forget that military and emergency personnel often rely on these flashlights, so they must withstand extreme environments and use.
Types of Right-Angle Flashlights
Swiveling Head Flashlights
A swiveling head flashlight has a pivoting light bulb that allows you to redirect the light beam in any direction. You can use them as a traditional flashlight or adjust the head to illuminate a specific area.
A handheld flashlight with a swivel head
Impact-Resistant Flashlights
Some right-angled flashlights are impact-resistant and can withstand drops without breaking. This feature makes them ideal for emergency and military flashlight use.
Waterproof Flashlight
Right-angled flashlights have an IPX rating, meaning they are waterproof up to a certain depth. This rating ranges from 1 to 8, with 1 being the least waterproof and 8 being completely submersible.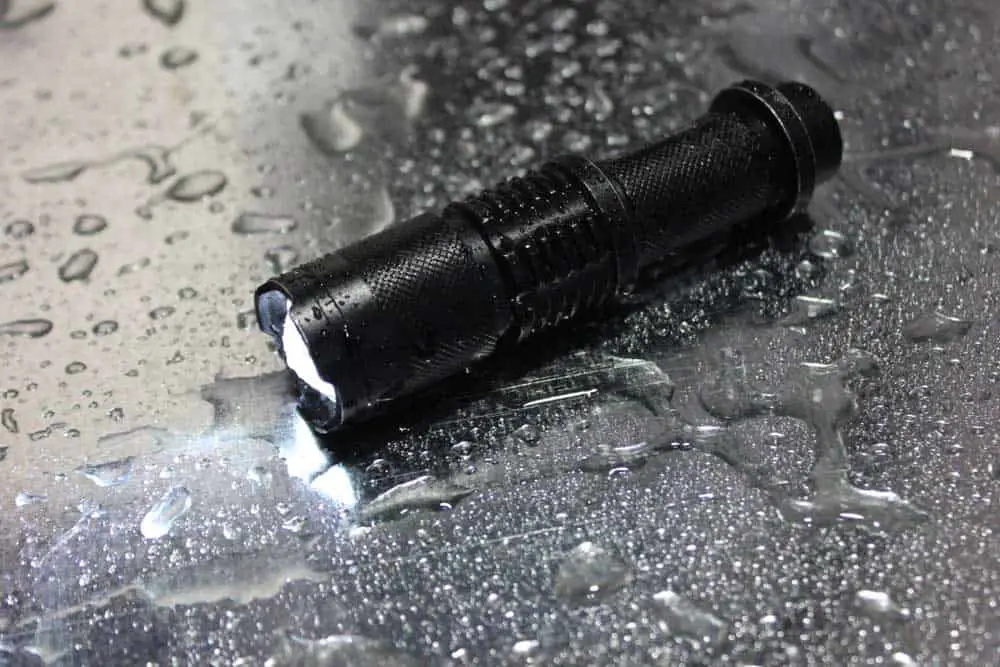 Waterproof torch wet
Mini Flashlights
Mini right-angle flashlights are typically the same size as a pen or keychain light, making them very portable and easy to carry. They are ideal when you need a small, highly-visible light source.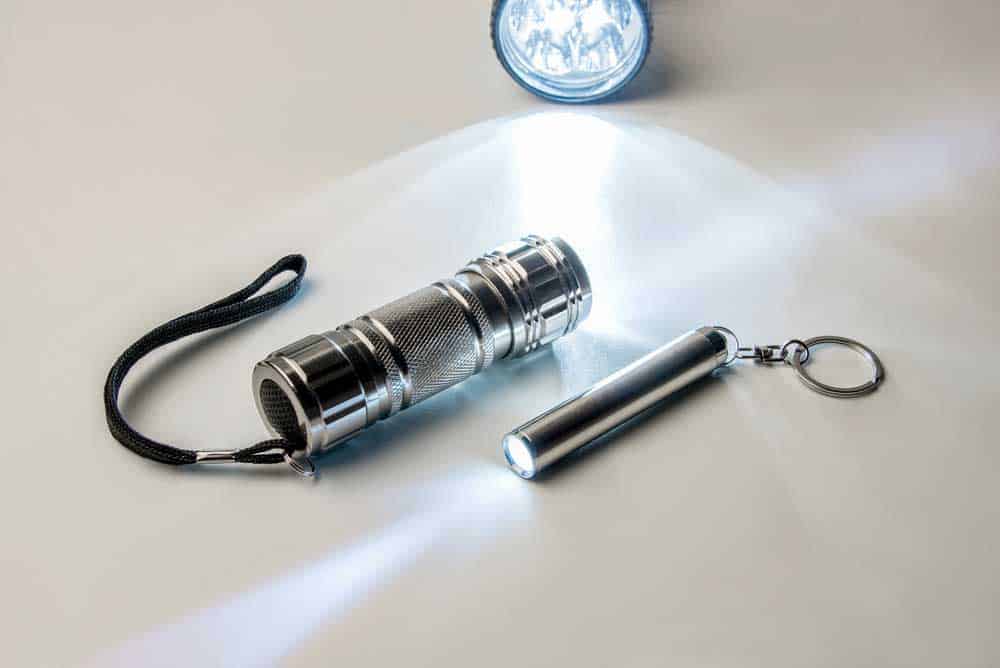 Mini LED flashlight
Headlamp Convertible Flashlights
You can convert some right-angled flashlights into a headlamp by attaching the light to a headband.
This feature allows you to use your right-angle flashlight hands-free while performing tasks like working on a car or hiking at night.
Fit male jogger with a headlamp rests during training
Multiple Brightness Flashlights
These flashlights feature multiple LEDs, each with varying bright lights. This way, you can choose a brightness level that best suits your task. Whether reading in the dark or performing an inspection in poorly lit areas, it can help.
Rechargeable Flashlights
Some right-angled flashlights are rechargeable, meaning you never have to worry about constantly replacing batteries. These flashlights usually come with a charging cable and base, so you can quickly recharge the flashlight when needed.
Buying Guide
Flashlight Brand
Many different brands of angle led lights are available on the market, and choosing the right one can be overwhelming.
We recommend going for well-known and reputable brands, such as Zebralight, Maglite, Pelican, or Surefire.
Light Output (Lumens)
The light output of a right-angle flashlight is typically measured in lumens, indicating the flashlight's brightness and overall performance.
When choosing a right-angle flashlight, choose one with at least 160 lumens of light; this wide range will provide enough brightness for most tasks.
Peak Beam Intensity
The beam's intensity describes how much the light is tightly focused or widely dispersed. When choosing a right-angle flashlight, look for an adjustable light intensity to focus the beam when needed.
Size and Weight
A right-angle flashlight's overall size and weight can affect its portability, so choosing the right size and weight for your needs is essential.
For example, a smaller LED flashlight may be better suited to carrying around in your pocket or purse, while a larger one may be better suited to using while performing a task.
Battery Type
Depending on your needs, it would help if you choose between a rechargeable or non-rechargeable flashlight.
Rechargeable flashlights are usually more convenient and cost-effective in the long run, but they require regular flashlight charging and sometimes come with a higher price tag.
Non-rechargeable flashlights, on the other hand, are generally cheaper, but you need to purchase batteries for them constantly.
Flashlights and batteries
Battery Lifetime Guarantee
If you use your flashlight frequently, look for one with long battery runtimes and high light output to ensure maximum brightness and runtime.
Lithium-ion rechargeable batteries tend to last longer than non-rechargeable ones, but this will vary depending on the specific model and brand.
Waterproofing and Shock Proofing
If you plan on using your flashlight in wet or hazardous environments, choose one with a water resistance feature and shockproof.
More expensive right-angle flashlights are better equipped with these protective measures, so you may consider a higher price point if this is important.
Budget
Finally, consider your budget when choosing a right-angle flashlight. Prices for these flashlights can range from $10 to several hundred dollars, so be sure to research and find one that fits your budget.
Top-Rated 90-Degree Flashlights
Streamlight 88087 ProTac 90 Right Angle Light
This flashlight is excellent for various situations and environments, thanks to its multiple fuel source options. It can run on a CR123A lithium battery, AA alkaline battery, or AA lithium battery.
Plus, it's shockproof, waterproof, and high-temperature resistant, making it an excellent choice for any challenging situation.
With a maximum beam distance of 147 meters, this flashlight is good enough for most applications. And with its moonlight mode, it can run for up to 15 hours!
Flashlight water resistant in drops
Streamlight 90540 Survivor LED Right Angle Flashlight
This rugged little handheld light comes with a C4 LED light that's impervious to shock and has an expected lifetime of over 50,000 hours.
Plus, the reflector system ensures that the beam cuts through the dark, making it ideal for firefighters and other professionals who need a reliable light source.
The easy-to-use push button actuator on the top makes it simple to operate even when wearing gloves, and multiple illumination modes allow you to tailor the light to the situation.
And if things go wrong on the job, the SOS feature provides a helpful way to signal for help. Plus, the rigid construction is water resistant to the IPX4 standard, making this flashlight an excellent choice for anyone who needs a durable and dependable light.
Pelican 3410M Right Angle Flashlight
This durable plastic body flashlight is tough and can withstand any knocks or bumps. It also has a photoluminescent finish that glows in the dark, making it easy to find in low-light conditions.
The Pelican 3410M is the ideal flashlight for firefighters, aerospace workers, and military personnel. Although it lacks a magnetic tail cap, it has a magnetic clip that makes any job easier.
You can customize it to fit any need with the three brightest modes (spot, flood, or both). And because it runs on AA alkaline batteries, you can use it for over 60 hours in low light mode or 5 hours in full light mode.
Streamlight 88830 PolyTac 90 LED Right Angle Polymer Flashlight
Although it does not have a magnetic tail cap, the Streamlight 88830 is one of the market's most versatile flashlights.
It's incredibly compact, and you can easily clip it onto your turn-out gear or insert it into a head strap for use as a helmet light. The large on-off switch on the head makes it straightforward to operate while using gloves.
Although it is lightweight, it provides complete impact resistance and waterproofing (meeting the IPX7 standard). With up to 170 lumen output and a runtime of up to 3.75 hours, this flashlight is perfect for any situation.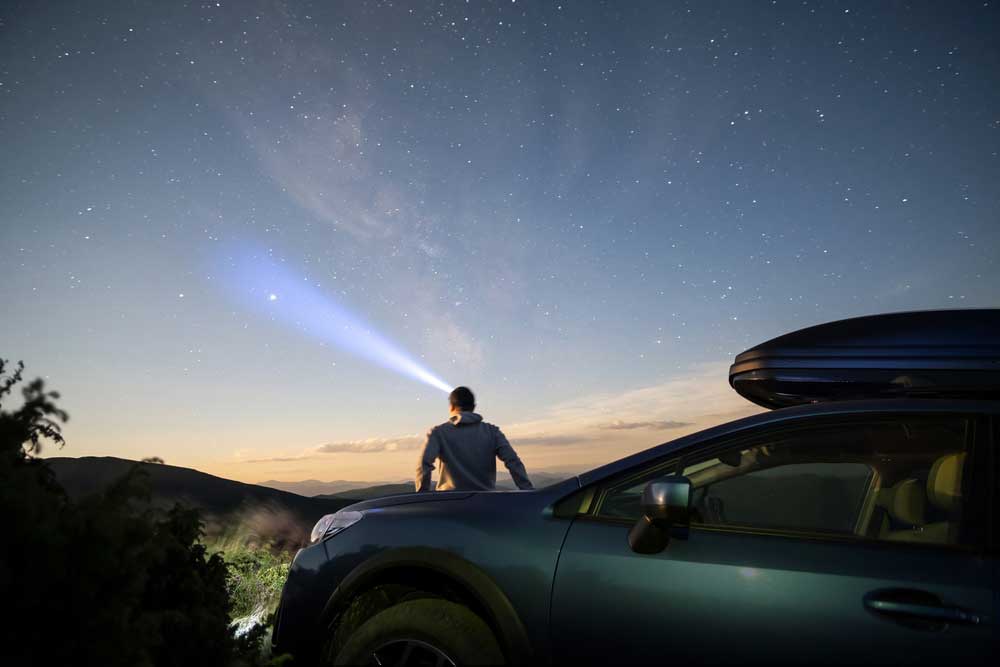 Headlamp flashlight
Nightstick XPP-5566GX Green Intrant Intrinsically Safe Permissible Dual Angle Light
The Nightstick XPP-5566GX is one of the market's most flexible flashlights. With 8-different modes, it can handle any lighting situation.
Depending on your needs, the dual-angle feature allows you to use it as a standard flashlight or a right-angled flashlight.
And if you're looking to save the planet, rechargeable batteries are a great way to do that. Best of all, the Nightstick XPP-5566GX is one of the lightest units in our tests – so you can take it anywhere.
Care and Maintenance
Always ensure it is clean and free of debris. You can do this by wiping the flashlight's body with a damp cloth and inserting all batteries correctly.
Always store your right-angle flashlight in a cool, dry place when it is not in use.
Check Screws and O-rings periodically to ensure they are tight and not worn.
If you notice that the light is not working correctly, try replacing the batteries or contacting a professional flashlight repair service in your area.
Clean the flashlight's lens with a soft, lint-free cloth periodically to keep the light functioning at its best.
Conclusion
If you're looking for a durable and reliable right-angle flashlight, the models above are the best on the market.
Whether you need a tactical light for your job or a versatile option for evening hikes, these flashlights will meet your needs. We hope this guide has helped you to find the perfect right-angle flashlight for your needs.​