Lighting is one of the essential features of a bathroom, as proper lighting is essential for performing bathroom tasks. Different types of lighting serve various purposes.
For example, ambient light with cooler colors gives you an overview, while a warmer color gives you the feel of a cozy atmosphere.
We recommend that the bathroom light temperature be between 3000 and 3200 Kelvin.
What do you need to consider before deciding on a temperature for bathroom lighting?
Basics of Color Temperature
Lord Kelvin, a British scientist, created the degrees Kelvin(K) scale used to measure color temperature today. A lower Kelvin degree indicates that the light source is warm light. Meanwhile, a higher Kelvin degree suggests that the light source is a cool blue light. 
Candlelight, for example, has a temperature of approximately 1,000 Kelvin. Light bulbs in typical households have a Kelvin temperature of around 3,000. However, bright light, such as natural daylight, has a temperature of about 6,500K.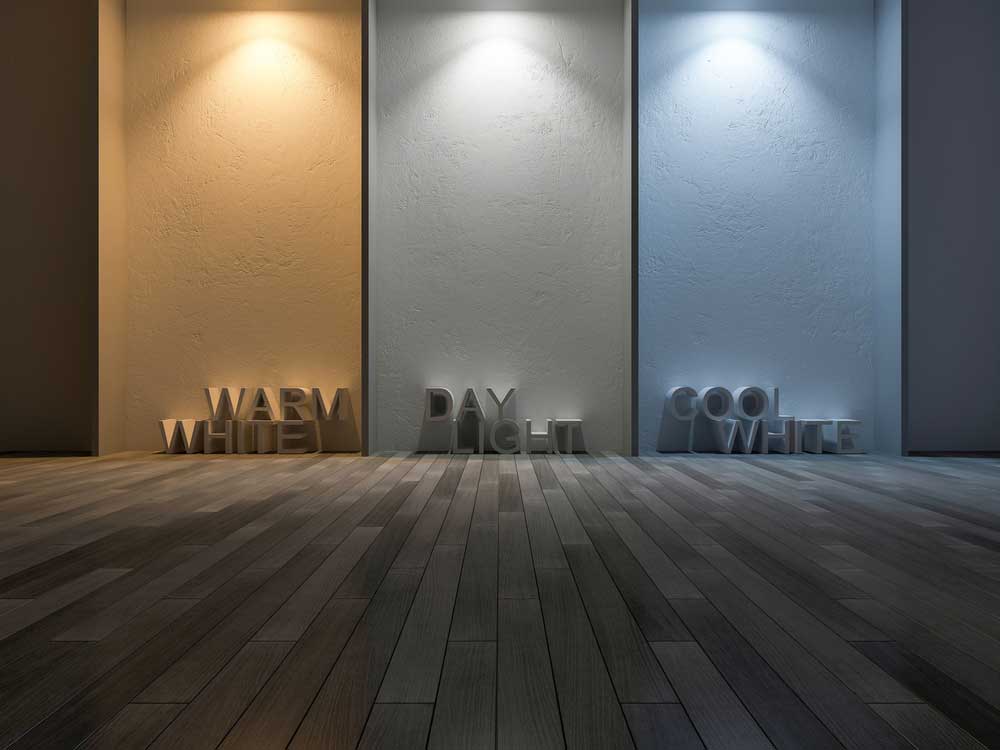 (Color temperature scale)
How Is Color Temperature Measured?
The Kelvin temperature scale is a standard expression for color temperature. It ranges from 1000K to 10,000K.
A low color temperature emits yellow light, creating a warm relaxing glow.
On the other hand, high color temperatures produce a cool, blue, and more vibrant light.
(Kelvin temperature scale color card)
Guides for Choosing Bathroom Lighting Temperature Colors
Follow the guide below to get the best range of color temperatures for your bathroom lighting.
Overcast sky (deep blue sky) — 9000K
Daylight — 6500K
Pure White — 5000K (best for task lighting)
Cool White — 4100K (best for bathroom vanity lights)
Neutral White — 3500K (best for bathroom vanity and office spaces)
Soft White — 3000K (best for ambient lighting in bathrooms)
Warm White — 2700K (also best for ambient lighting in bathrooms)
Candlelight — 1500K (suited for accent lighting)
(Ceiling lights of different lighting temperatures).
Bathroom Color Temperature
The lighting in a modern bathroom should be bright. 
If you use warmer lighting than 3,000K, your bathroom may seem stuffy and tiny.
Bathroom Lighting Tips
Color Temperature Preferences in Kelvins
Lower temperatures encourage vibrance and energy. Alternatively, warmer temperatures promote relaxation. However, note that Kelvin's degree, the lumen, bulb brightness, and wattage are different properties.
(Lamps of different color temperatures)
Color Rendering Index (CRI) 
A scale of measurement that lets us know how effective a light source is on an object's true colors is a Color Rendering Index. A CRI of 100 indicates that a light source accurately represents the color.
It would help to use lighting with a higher CRI value for accurate colors in a bathroom. 
Incandescent bulbs are always rated 100, which is the highest rating. 
LED lights often have CRIs ranging from 80 to 95, which is excellent for brighter lights. 
However, fluorescent bulbs have a wattage of roughly 60, which could be better.
Other factors to consider are the kind of light bulb used.
(Different types of light bulbs)
How to Select a Color Temperature for Bathroom Lighting
1. Bathroom Light Temperature: Decoration of the Bathroom
How would you describe the overall vibe of your bathroom lighting design? It could be classic, modern, contemporary in style, or transitional.
(Vanity lighting at a bathroom mirror)
2. Bathroom Light Temperature: Color of the Wall
The hue of your walls may frequently shift during the day.
North-facing windows get blueish natural light all day (Paint in warmer hues).
South-facing windows provide plenty of natural light (Think about utilizing dark paint colors).
East exposure provides cooler afternoon light. (Use a warmer hue of paint).
West-facing windows provide more excellent afternoon light. (Use a lighter hue of paint)
(A soft green bathroom wall color).
3. Bathroom Light Temperature: The color of the Cabinets
There is significant creativity around vanity cabinets and built-in storage places these days. Typically, white cabinetry matches cool white light. Cool white lights may vary in color temperature from 3500K to 5000K.
On the other hand, wood cabinets look best in a warmer light with their wood textures and earthy tones. Also, warm white lights may vary in color temperature from 2700K to 3500K.
(Bright wooden cabinets in the bathroom)
4. Bathroom Light Temperature: Fixture Finish Type (Towel Rack, Tap, Light Fixtures, Door Handles)
Chrome, for example, has a more contemporary, sleek appearance on light fixtures. But brass finishes have more warm tones.
(Other decoration in the bathroom)
Questions and Answers on Bathroom Lighting Temperature
Q: Do you need a bathroom light that is resistant to moisture?
You need damp-rated lights if you use a steam shower or something similar. You may mount them over your sink or in your bathtub. Only some of your bathroom lighting, however, has to be damp-rated.
Q: Is pastel white the best bathroom color?
The ideal light color temperature for a bathroom is midway between 2700K-3000K soft white light and 5000K-6500K daylight light.
Q: Is 5000K too warm for a bathroom?
5000K is too bright for typical home bathroom lights. Although the 5000K color temperature has a sterile and clean appearance, 4000K is a good alternative. 
(White bathroom cabinets)
Conclusion
In general, our bathrooms serve a variety of tasks. However, it all boils down to personal preferences to determine the color temperature of your bathroom lights. 
Whichever it is, you need the correct illumination for a bright, fresh, and clean environment.