LED Flashlights are becoming increasingly popular thanks to the advantages of LED technology over others. Similarly, there has been a wide range of battery types for portable devices.
Our guide today will focus on rechargeable lithium batteries- the 18650 batteries.
Therefore, join us as we explore the best 18650 batteries for flashlights and their key characteristics. 
What is a 18650 Battery?
A pack of lithium-ion cells of the 18650 format.
The 18650 battery derives its name from its external dimensions. On average, most of them measure 18mm in diameter and have a length of 65mm. These rechargeable batteries are renowned for their use in rechargeable flashlights. 
Their key characteristics include the following: 
They have extensive runtime (long-lasting power)and relatively long life cycles. 
Also, they yield a high power output and have charge cycles of between 300 to 500. 
Further, these lithium-ion batteries are ideal for high-performance torches and powerful flashlights. 
Two Primary 18650 Batteries Categories
Two Batteries Pack
The two main types of 18650 batteries are high-capacity cells and high-drain cells. 
HIGH CAPACITY 18650 Batteries Examples
Batteries 18650
These cells provide an extensive runtime and usually have a capacity of above 3000mAh. But, they don't guarantee a high discharge rate, thus unfit for ultra-bright flashlights. 
The best flashlights for such batteries are those below 2000 lumens. Examples of these flashlight batteries include the following: 
Samsung INR18650 35E
Panasonic NCR18650B
Sanyo NCR18650GA
HIGH CAPACITY 18650 Batteries Examples
High-discharge or high-drain batteries are renowned for their high discharge rate. They also produce relatively higher current than the conventional type of battery. 
Besides, it's a battery suitable for a high-power flashlight. The discharged battery is also low-capacity compared to the normal 18650 batteries. Examples of the 18650 batteries suitable for bright light flashlights include the following: 
Sony Murata VTC6
Samsung INR18650 25R
Molicel P26A
The 7 Best 18650 Batteries for Flashlights
18650 Rechargeable Li-ion Batteries
Here are some of the top 18650 batteries for your flashlights:
1. Best 18650 Batteries for Flashlights:
Deleepow Li-ion AA Batteries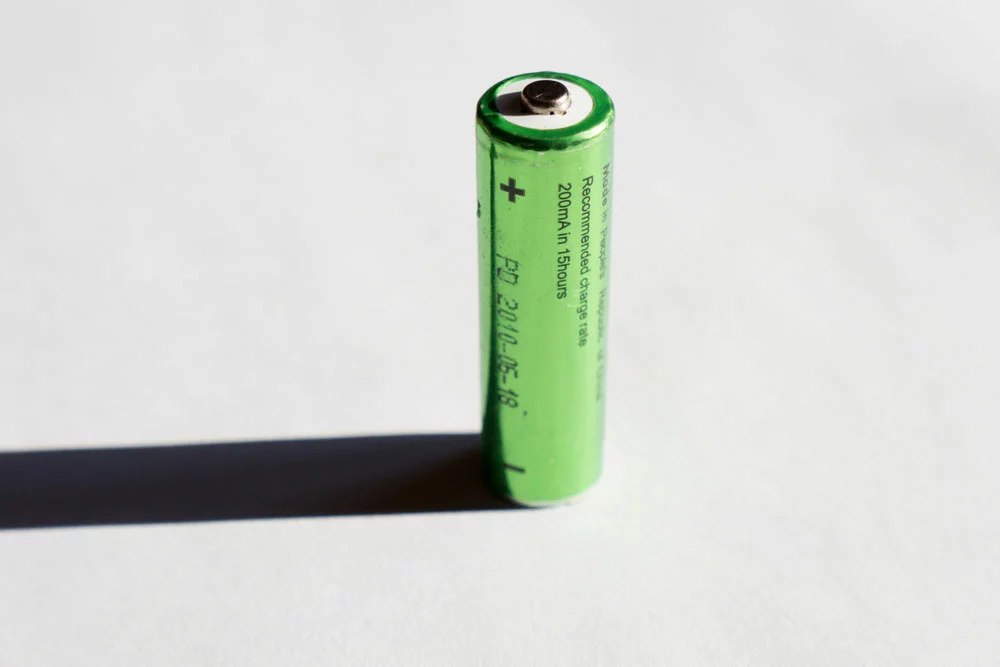 Rechargeable Li-ion Battery
If you're operating on a lean budget, these are ideal batteries. They are available for a wide range of batteries thanks to their 3,200 mAh capacity and 1.5V. 
Also, the batteries retail in a 4-flat top batteries package and come with a charger. Hence, it is worth investing in these rechargeable batteries as their quality is top-notch. 
Other top qualities of the batteries include: 
They are rechargeable for 1,500 cycles and give high output for high-lumens flashlights. 
Also, they feature an advanced battery capacity, thus will give the intended output. 
However, their downside is that you can only charge them from their main battery charger. 
2. Best 18650 Batteries for Flashlights:
Molicel M35A
It is a flat-top battery type that outputs a maximum voltage of 4.2V. It also has a high energy density and a total capacity of 3500mAh. The cell belongs to the class of unprotected batteries, although its long cycle life makes it one of the best in its price range. 
Remember always to use its charger when charging this battery, as it's lithium. Lastly, it is ideal for 21W electric vehicles and small gadgets. 
3. Maxi Aeon Flashlight & 18650 Rechargeable Batteries
The Maxi Aeon package includes the following power tools: 
A tactical flashlight
A battery charger.
Therefore, it is a complete package worth investing in, as the batteries deliver enough power for most simple flashlights. They feature a capacity of 3.7-volt, 1,200mAh, and can effectively run a flashlight of up to 2000 lumens.
Besides, these batteries are cheap and lightweight, although they can take quite some time to recharge. Their charger doesn't automatically shut off when the batteries are full. Hence, it would be best to disconnect the batteries once fully charged. Otherwise, they'll overcharge. 
4. EBL 3.7V Li-ion Rechargeable Batteries
They retail in a pack of two Li-ion rechargeable batteries with a 3.7-volt and 3,000 mAh capacity. The batteries can take up to 12,000 charge cycles, making them one of the best in terms of longevity. 
But they don't come with a charger, so you must buy one separately. Still, they remain one of the best batteries for running simple and portable electronic gadgets. 
Again, they are button-top batteries, so you must check if they're compatible with your flashlight before purchasing. 
5. LCLEBM 18650 Flashlight Rechargeable Batteries 
18650 Li-ion battery and charger.
They come in a package of 4 batteries, each with a capacity of 3,400 mAh. Thus, combined, these batteries make a 3.7-volt battery.
However, they are flat-top batteries rather than button batteries. Hence, before purchasing, ensure that they are viable for your flashlight. 
Among their advantages is that they are long-lasting once fully charged. They also charge quickly and guarantee a consistent power supply. 
6. Shenmz 2 Pack 3.7V 3400mAh Rechargeable Flat Top Battery
These also retail in a package of two batteries with a capacity of 3.7-volt, 3,400mAh. They are also high-drain batteries, hence suitable for high-lumen flashlights.
They can last up to two hours of use after a full charge and often retail together with their charger. 
In addition, Shenmz gives a 12-month warranty, thus meaning that you're protected from the manufacturer's deformities. However, these batteries are quite pricey and may take quite a long time to charge fully. 
7. Best 18650 Batteries for Flashlights:
Samsung INR18650 35E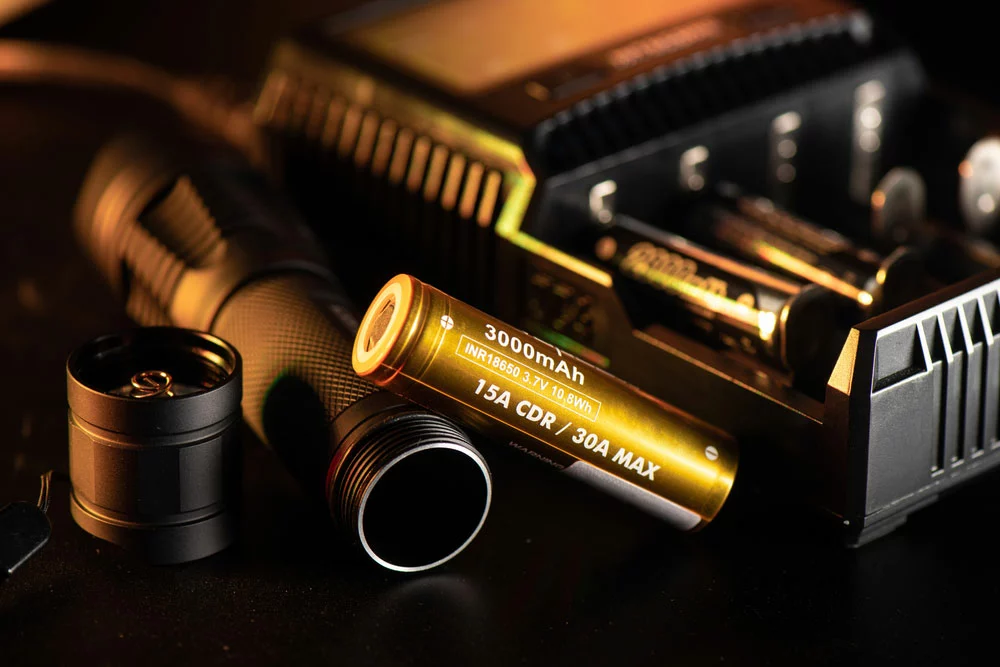 Golden INR18650 3.7V rechargeable battery with charger.
It's a high-capacity battery with a nominal capacity of 3500mAh and a maximum continuous discharge rating of 8V. The battery is an unprotected cell, but it is of excellent quality regarding its overall performance. 
In addition, the flat top, quality rechargeable battery weighs approximately 50g. Hence, it is suitable for an extensive range of portable devices that require flat-top cells. 
Why Do You Need a 18650 Battery?
A Golden INR18650 3.7V rechargeable battery.
There are several reasons you should use the 18650 battery for your flashlight.
First, they are small-sized, excellent, quality batteries suitable for a wide range of portable devices. 
Also, they're capable of delivering more output than AA non-rechargeable batteries and rechargeable alkaline batteries.
Thirdly, the batteries are a safer option than the traditional alkaline cells. Some feature a protection feature and are less prone to leaking. Also, you might find others with an internal circuit to minimize the chances of overheating and short-circuiting. 
They output a higher voltage, thus significantly boosting the flashlight's brightness. 
Further, they are more long-lasting than AA and other alkaline batteries.
Thus, despite their initial acquisition cost, they last longer and come with a charger.
Some 18650 batteries feature a nickel plating making them safer than most conventional alkaline batteries.  
Top 3 Considerations for a Flashlight 18650 Battery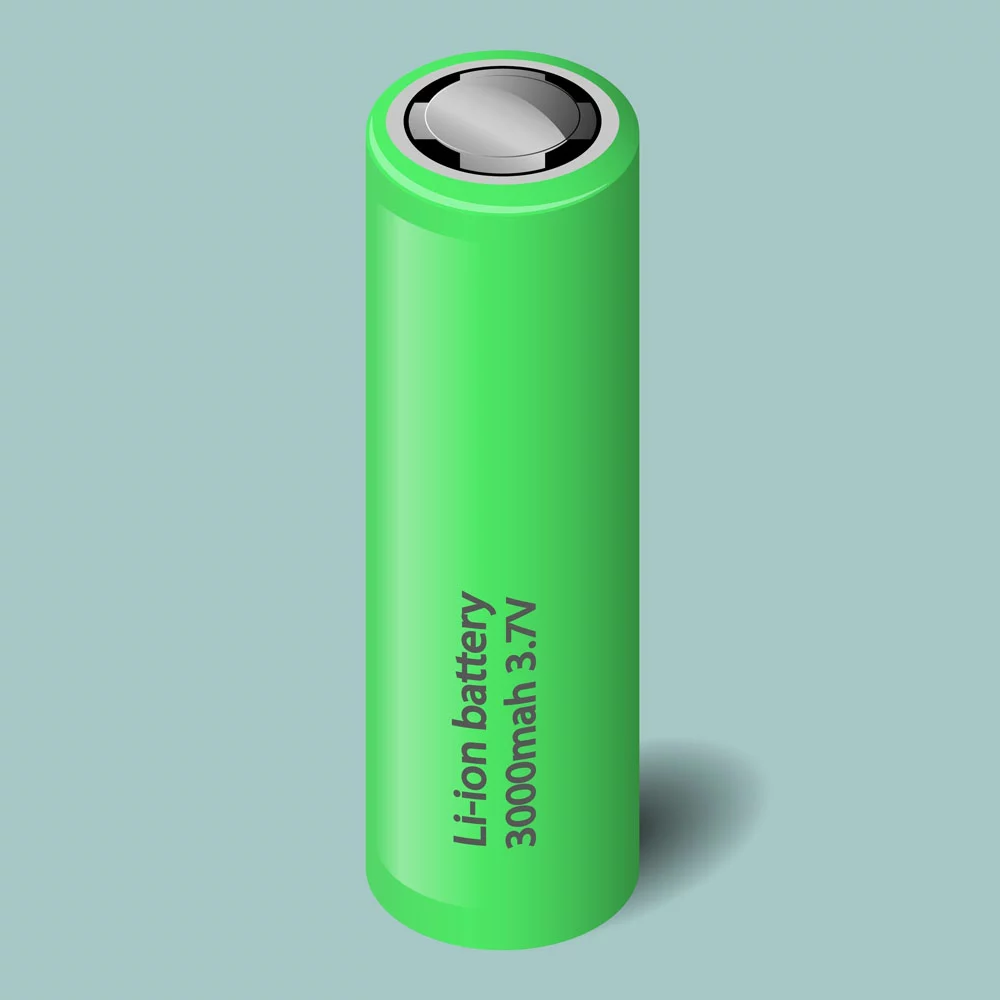 Green li-ion battery.
Brand Name
Charging the rechargeable batteries in the black charger.
When buying a 18650, consider brands such as Samsung, Panasonic, Sony, and LG. 
But, some new brands are also worth a mention as their cells are also of top quality. They include Fenix, Imren, OLight, Nitecore, and Vapcell. 
Also, beware of fake batteries, such as those claiming to have a capacity of more than 3500mAh.  
Protected vs. Unprotected
A pair of 18650 Li-Ion batteries for use in small electrical appliances.
Again, all 18650 batteries are relatively safer than the typical alkaline cells. But some 18650 batteries have an added layer of protection.
Such cells feature a PTC (pressure, temperature, current) switch to turn it off if it overcharges. 
Most 18650 batteries are protected, while those that are not are relatively cheaper. 
Capacity and Current
A 3000mAh 18650 Battery. 
Your flashlight requirements will determine the battery capacity and current that you settle on. Therefore, it'd be best to check the flashlight's specifications before buying a 18650 cell. 
Top 3 Buying Tips for 18650 Batteries
Vaping charger with 18650 battery.
You're always at the risk of being scammed or tricked when buying 18650 batteries for your flashlight. But you can mitigate this risk and improve your battery performance by following the tips below. 
Always compare the batteries' actual weight to their weight specifications. You can find the correct weight specification on their online sites. 
Also, ensure you buy a battery with the correct output for your flashlight by confirming the continuous discharge rating (CDR).
Please don't allow the batteries to discharge entirely before charging to increase their lifetime.
18650 Batteries for Flashlights FAQs
How to identify fake 18650 batteries?
Weighing the batteries is the best way to confirm if it's real or fake. 
How to boost the 18650 flashlight batteries' performance?
Use the batteries in electrical appliances with the right CDR demands for assured longevity. Also, operate the batteries in mid-to-high range voltage capacity. 
Summary
The above 18650 batteries will be handy for your flashlight, especially if you choose a suitable battery capacity.
They are not as cheap as conventional alkaline batteries, but you'll reap more in terms of use time.
That's all on 18650 batteries, and we hope you're better guided when shopping for an ideal battery for your flashlight.