Driving with your brake and tail lights broken can cause road accidents. Both brake and tail lights play an essential role in automotive lighting. In most cases, people don't get the difference because brake lights and tail lights are at the rear of a vehicle. But do they play the same role? Are they different? Brake lights vs. tail lights, what's the comparison? This blog highlights every detail you need to know about brake lights vs. tail lights.
Brake Lights vs. Tail Lights: What Is Tail Light in Car?
A car with tail lights
Tail or rear lights are red lights at the rear of a vehicle above the bumper. They are not active during the day unless there are low-visibility conditions. They share the same connection with the headlights, and the rear lights activate through a relay when they are on.
If you have automated lighting, the taillights will turn on when your car starts. However, you will suffer from poor visibility conditions if you have broken tail lights. So having them in good condition will provide you with safe driving. 
Types of Tail Light
There are three different types of tail lights. These are;
The Led tail lights
Led lights use three times brighter bulbs than other types of tail lights. They boost security on the road since they illuminate faster. Their led tail lamps are good in power consumption; thus, they are cost-effective. Also, expect your led tail lights to last for a long time.
Xenon Tail Lights
Xenon tail lights
Most modern vehicles use xenon lights as their tail lights. They are brighter, energy efficiency, and long-lasting. Unfortunately, they are a bit costly because of installation and maintenance costs.
Halogen Tail Lights
The Halogen tail lights
Halogen tail lights use argon and nitrogen gases. They are affordable, durable, cost-effective, and available in different designs.
Brake Lights vs. Tail Lights: Which Lights Are the Brake Lights?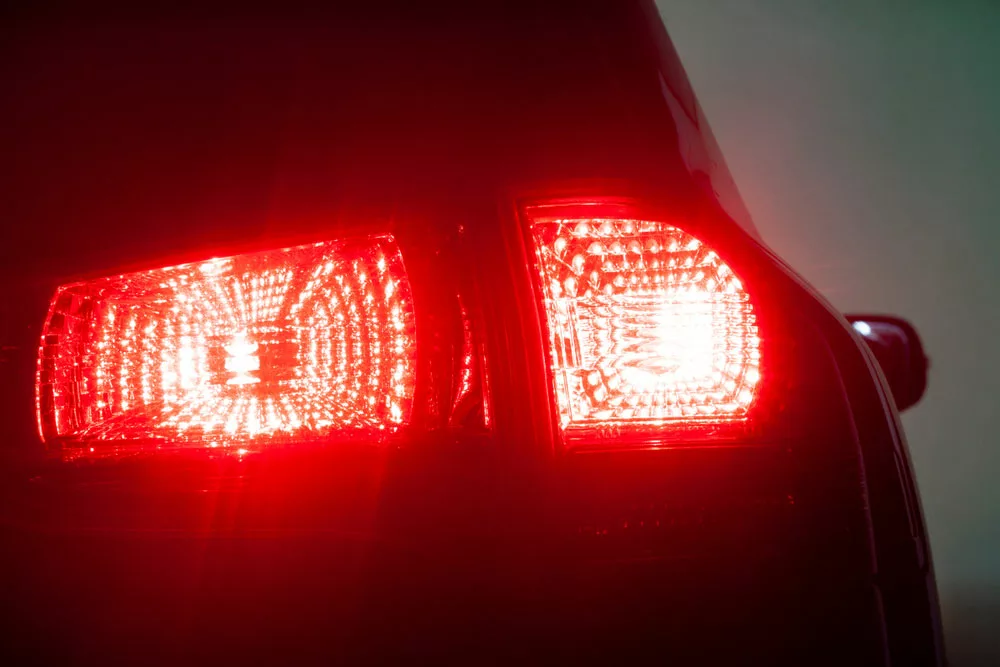 Type of brake lights
Brake lights have a brighter light; they are red at the vehicle's rear end, just like tail lights. Depending on your vehicle model, they share the same housing units with tail lights. Their lights turn on after the driver presses the brakes. Once the driver releases the brake pedal, they go off.
Brake Lights vs. Tail Lights: What's the Difference?
Brake lights and tail lights have a significant difference. The differences lie in how they function. As a driver, you must know how to spot the difference to avoid causing road accidents.
Brake Light
A car with brake lights
Brake lights warn other motorists that you are about to slow down or stop so they have time to react and prepare. With brake lights, oncoming cars can maintain a greater following distance and prevent collisions. Additionally, brake lights are noticeable in sunny and cloudy settings due to the brighter red light they produce.
Tail Lights
A car with tail lights
Tail lights illuminate if it is raining to warn other drivers that you are on the road. They make it possible for other motorists to accurately know a vehicle's size and shape by displaying its rear edge. Additionally, in adverse weather like rain or snow, they help drivers see the other cars on the road.
How Much Are Brake Lights?
If you have a bad brake light switch, note that the replacement cost depends on the vehicle model. If you are operating heavy commercial vehicles, the price will differ from light commercial vehicles.  In most cases, a brake light costs between 20 to 150 dollars and labor between 40 to 200 dollars.
How much does it cost to replace brake lights?
The cost to replace brake lights can vary depending on your vehicle's make and model and other specific factors. Averagely, it costs between $40 and $300 for materials and labor combined. However, in some cases, it may be more expensive. Replacing the light assembly itself is usually cheaper than replacing the entire wiring system that connects it. 
Always use a certified mechanic as they know how to change brake lights or install and diagnose any problems that might have occurred. Additionally, many auto parts stores offer free installation with the purchase of brake light replacement parts. It is essential to consult an experienced mechanic before attempting this repair yourself to ensure safety and proper installation.
When Do You Know Your Brake Lights Need Replacement?
An example of someone fixing brake lights
The most common indicator that you need to replace your brake lights is if they stop working or become dimmer than usual. This can happen for various reasons, such as wiring issues, blown fuses, or old bulbs. Additionally, you must check your brake lights regularly for any signs of damage or wear. If you notice any cracked or frayed lenses, bulbs, or wiring, it's wise to replace them as soon as possible. Additionally, if your brake lights are no longer responding when pressing down on the brakes, they also indicate that they need replacing. To avoid potential safety issues, ensure you fix them as soon as possible.
How to Fix Brake Lights
When you notice they are not working, you can learn how to fix brake lights or involve a professional mechanic to help. Follow these steps on how to change brake lights:
Check The Faulty Brake Light.
Disconnect the battery to ensure you don't shock yourself or damage any part of your vehicle.
Use eye protection to prevent any particles from entering our eyes. That will ensure you properly search the underside of your vehicle to identify the faulty light.
Search for your brake pedal switch. You can refer to your manual to know its location.
Disconnect the wiring housing from the switch.
Check if there is a problem with the wiring. If the housing is burnt or melting, you should consider replacing your brake light.
Install Your Brake light
Disconnect the wiring harness if you haven't done that.
From the brake pedal linkage, take out the old switch.
Insert the new switch into place. You can use the same mounting.
You can reconnect the switch to the linkage and the harness.
FAQs
Are Tail Lights and Brake Lights Use the Same Bulb?
Most cars use a single bulb rather than separate bulbs for the brake and tail lights. The bulb has two filaments: one for the brake light and the other for the tail light. However, some automobiles have unique bulbs for each circuit as well.
The best way to tell if your brake lights and tail lights share the same bulb is to have someone press the brake pedal. You can check bulb illuminates in the tail light assembly.
Why Do I Have Tail Lights but No Brake Lights?
Sometimes you may notice your tail lights are working, but the brake lights are not. The possible scenarios are;
Your brake light bulbs are faulty.
The light wiring switch is not working, or there is a broken wire.
The brake light fuse system is faulty.
The car's wiring system has electrical damage.
Can You Use a Tail Light Bulb for a Brake Light?
No. You cannot use a tail light bulb for a brake light because it doesn't use the same bulb. If your car has a double filament bulb, understand that the filament is on a different circuit.
Summary
Both brake lights and tail lights enhance safe driving conditions for road vehicles. To ensure you prevent any traffic accidents, you need to have your lights functioning well. If you have dirty lenses, rear brake lights are not functioning, or broken bulb sockets, ensure you replace them as soon as possible.