Cree is not only a language native to North America, but it also describes a famous company for its LED products. While they sell high-quality heat sinks, drivers, and other modules, they are most famous for providing industry-standard LED chips. Furthermore, Cree LEDs chips are so good that most top-tier lighting manufacturers incorporate them into their products. People tend to use product names and company names interchangeably. Therefore, if someone refers to Cree LEDs, they are most likely talking about their LED chips.
Cree LEDs are great for industrial use cases. However, Cree LEDs are also great for DIY LED projects if you are a hobbyist. Nevertheless, in this guide, we will cover what Cree LEDs are and what types are available. Without further ado…
Cree LEDs: What are they?
As a company, Cree (Wolfspeed) has been around since 1987. Since then, they have been producing some of the best lighting-class LEDs on the market. While the original Cree no longer exists, its tradition of making top-quality LED chips remains under the Smart Global Holdings and Cree LED banner.
Cree LEDs and LED chips tend to be high-powered. Customers use them on video screens, outdoor lighting, emergency lighting, flashlights, industrial lighting, and vehicles. You can also use them in general lighting. Cree LEDs are efficient, deliver high lumen density, and are reliable.
Unsurprisingly, Cree LEDs are so popular and liked that counterfeiters make and sell fake Cree LEDs. Therefore, if you plan to purchase any products with Cree LEDs, you need to ensure that you buy them from a trustworthy source. 
However, why would you want to purchase Cree LEDs? If the above text does not convince you, then maybe the next section will. In it, we give a brief run-down of some of the advantages of purchasing and working with Cree LEDs.
What Are The Advantages of Using Cree LEDs?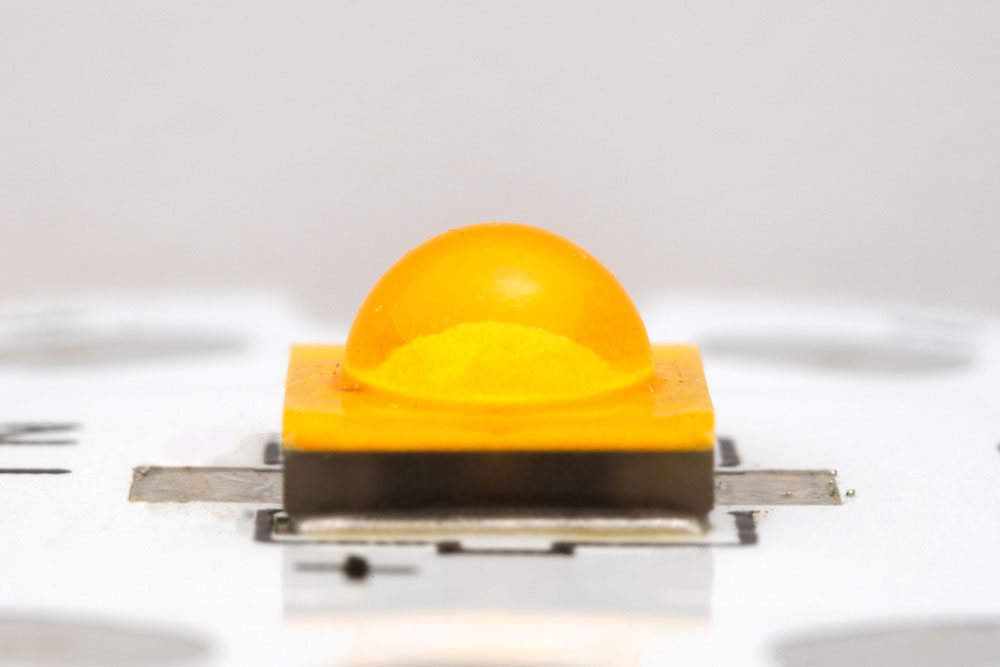 What advantage does Cree have over other manufacturers? Additionally, what can they offer you that other manufacturers cannot? Here is a list:
Efficiency: To be fair, most LEDs are more efficient than any other light source. However, Cree LEDs are generally more efficient because they use innovative design technology. For instance, the 4Flow-based LED bulbs perform incandescent light bulbs while lasting longer and using less power.
Stringent quality and performance verifications: An accredited independent third-party laboratory verifies the performance of all Cree products. This ensures that there are no conflicts of interest. 
Durable: Thanks to the verifications that Cree LEDs go through, they are highly durable.
Superior life spans: Generally, this is an advantage of most LEDs. However, their LED light bulbs can last up to 30,000 hours, up to six times longer than some light bulbs.
Mercury Free: Mercury is both terrible for the environment and dangerous for your health. Cree-based light bulbs are mercury-free.
Superior lighting: Cree can deliver 815 lumens for a 60-watt replacement and 460 lumens for a 40-watt replacement. 
How Does a Cree LED Work?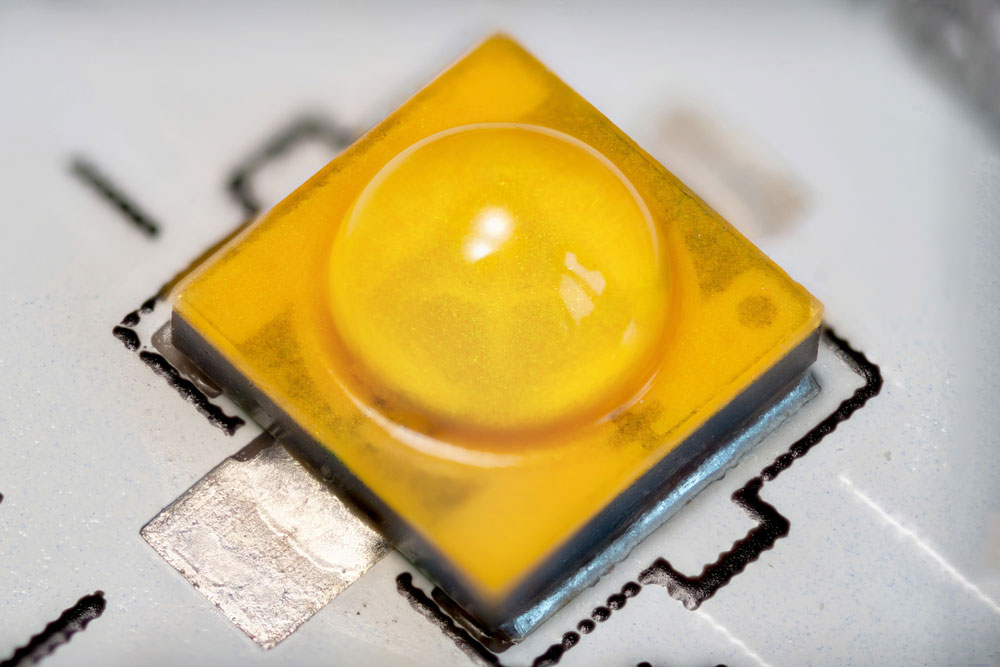 Cree LEDs work just as any semiconductor does. Current flows through a conductor that carries it to the diode. The diode then emits photons, which appear to us as light. The materials and approach to developing its LED chips make Cree's LED technology different. An excellent example is their CPW5 Z-Rec high-power silicon carbide (SiC) Schottky diodes.
Cree LED Comparison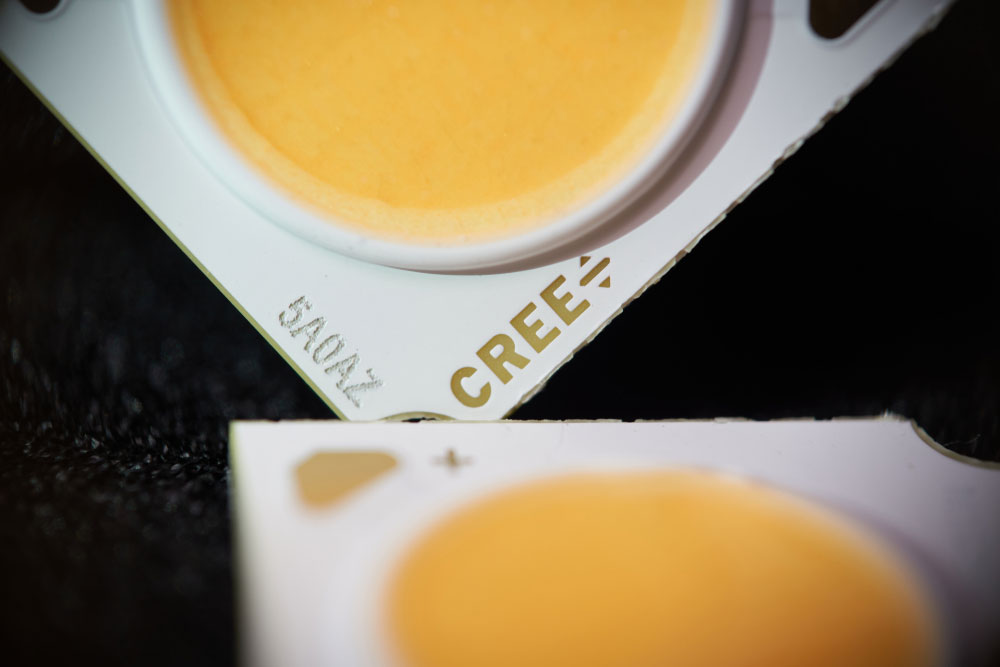 Which Cree LED is best? Which Cree LED chip does your light fixture use? In this section of the guide, we will be answering these questions. Essentially, we will cover some of Cree's best technology. 
Cree XP-L HI V3
We also know this LED as the XLamp XP-L High Intensity. It is possible to create a DIY Cree LED grow light kit or DIY Aquarium lights. In commercial applications, we use it in flashlights such as the Nitecore 1000-lumen flashlight. The Cree XP-L HI V3 is a single-die LED. It has a maximum light output of 1095 lumens at 10 Watts. Furthermore, it has a maximum junction temperature of 150 °C. 
Cree XP-G2
The Cree XP-G2 or Cree XLamp XP-G2 LED (in full) comes in two formats. You can find it in the standard LED form or the high efficacy version. Additionally, the bar has a maximum output of 586 lumens at 5 Watts, while the high efficacy version has an output of 735 lumens at 5.8 Watts. 
Cree XP-E2
The Cree XP-E2 or Cree XLamp XP-E2 (in full) is particularly suitable in applications where manufacturers require a mixture of light colors. Some of the available colors include white, red, blue, green, amber, and outdoor white. Additionally, it is available in far-red, which is infrared. This makes it a Cree IR LED. Moreover, these chips generally have a light output of 1095 lumens at ten watts. 
Cree XP-E
The Cree XP-E or XLamp XP-E improves the XR-E version (we discuss it further down the guide). It has an 80% smaller footprint. Additionally, it is available in a wide array of colors. For instance, you can find it in amber, red-orange, red, royal blue, and green. It has a wide viewing angle of 115 to 130 degrees. Additionally, these LEDs have a maximum light output of 307 lumens at 3.5 Watts. You can find the Cree XP-E in a quad Cree LED design with four LEDs. An excellent
An example of this is the Cree XPE Quad Pod 4-Up Royal-Blue LED. 
Cree XHP35
The Cree XHP35 or Cree XLamp XHP35 is available as a high-density or high-intensity LED. Cree attempted to achieve with the Cree XHP35 is a high-power LED with a smaller footprint. Thus, customers expect a 3.45 x 3.45 mm LED that delivers 50% more light output than Cree's previous top-performance single-die LEDs.
Cree XPG
The Cree XLamp XP-G LED is another small form LED that delivers high lumen directional lighting. It has a maximum light output of 493 lumens at 5 watts. Moreover, it has a viewing angle of 125 degrees. It is available in various whites, including 80-CRI, 85-CRI, and 90-CRI.
Cree XT-E
The Cree XT-E (XLamp XT-E White) delivers high-intensity directional lighting. It is available in white or royal blue. In both instances, it can provide a maximum light output of 629 lumens at 5 Watts. Additionally, it has a viewing angle of 115 degrees.
Cree XR-E
The Cree XLamp XR-E LED is one of Cree's older semiconductors. Chips such as the XP-E are successors to this LED. Nevertheless, the Cree XR-E is available in white, green, blue, and royal blue. Furthermore, it has standard binning and delivers a maximum light output of 251 lumens at 4 Watts.
Cree XM-L RGB
The Cree XM-L RGB or Cree XLamp XM-L Color LED is a multicolor LED in a single 5 mm x 5 mm package. It has a viewing angle of 130 degrees. This LED chip is exceptional because it contains individual addressable LEDs. Thus, it can emit red, blue, green, and white light.
Cree CXA LED Arrays
Cree CXA LED arrays are available in two basic sizes. You can find them as small standard-density integrated arrays and large standard-density integrated arrays. However, each actual size consists of more differently sized options. You can find small CXA LED displays as small as 6 mm and as large as 14 mm sizes. A large CXA LED array can be between 19 mm and 30 mm in length. Each size has its unique lumen range.
Cree LED Optics
Cree LED optics increase or diffuse the illumination of Cree XLamp LEDs. Additionally, you can use them to control illumination patterns. You can find Cree LED optics for XT-E, XP-E, XP-G2, XM-L2, MC-E, and XR-E LEDs. 
Did COB lead vs. Cree: Which is better?

COB stands for Chip on board. It is a relatively young technology. You can consider it the next step in the evolution of the LED. While Cree specializes in mostly surface-mount device LEDs, they build COB-based LED products. An excellent example of this is their CXA2 array LEDs. We cover them briefly in the section above. 
Nevertheless, chip-on-board LEDs consist of multiple "naked" LED chips connected to a substrate. COB LEDs deliver better lighting performance than standard SMD LEDs.
It would not make sense to compare Cree LEDs to COB LEDs. The former is a company that produces all types of different LED technology. The latter is an LED technology that the former also makes. Thus, it is possible to purchase a Cree COB LED. The comparison is faulty. 
Conclusion
It is easy to see that if you are looking for high-quality products for your project, then Cree LEDs and modules are a safe bet. Cree LEDs come in all shapes and sizes and are available for almost any application that requires electroluminescence. While they may be a little more expensive than other LED chips, they are generally more efficient and long-lasting. This equates to money savings in the end. Nevertheless, we hope you have enjoyed reading this guide. If you want more information on PCB assembly, please do not hesitate to visit our website. As always, thank you for reading.