These days, homeowners may prefer a long-term, cost-effective alternative heating system to provide warmth. So if you want a more affordable option, then radiant floor systems may meet those expectations! However, you will need to consider a few important factors when considering the heated floor cost. This article will guide you through the essential information. So keep reading to learn more about radiant floor heating!
What Is Radiant Floor Heating?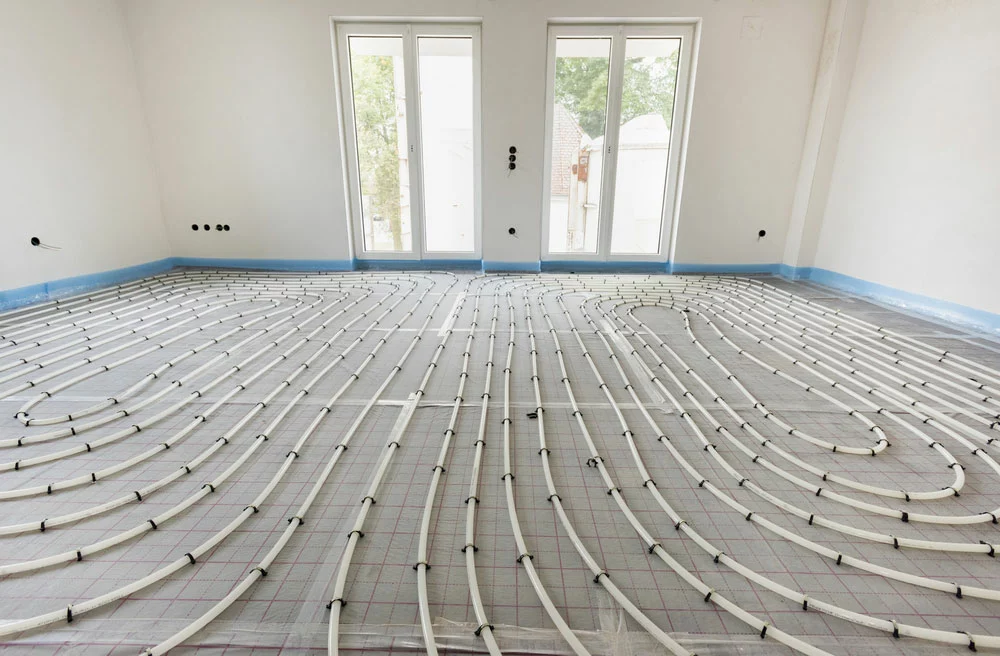 Radiant floor heating in a new house. 
Radiant floor heating is a system that generates and releases heat through electrical wires underneath the floors in a home. These energy-efficient systems are typically installed in bathrooms or kitchens, keeping the floor and room warm. As a result, you will quickly realize that your home will not need radiators or vents thanks to the system's heat distribution.
An underfloor heating system in the bathroom.
Radiant systems have a 25% higher efficiency performance than forced air systems. Plus, they can operate with many flooring types, making them convenient with an easy installation process. You can also choose either a water-based or electric floor heating system. Each one will lead to 15% in savings on your heating bill!
Radiant Floor Heating Cost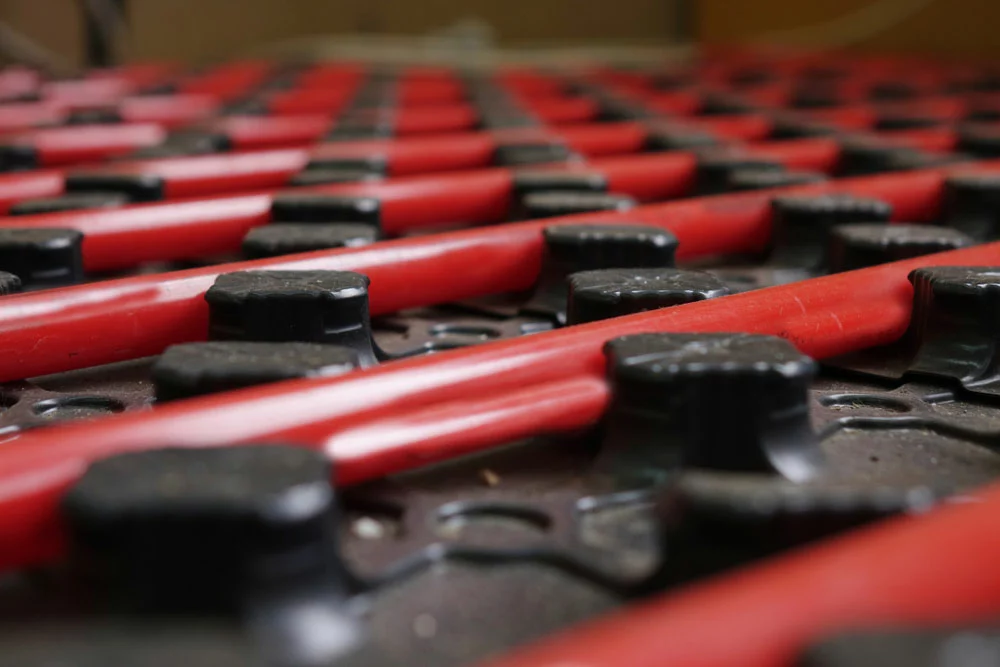 Heating floor systems vary in price.
You can expect to pay average prices of $10 to $15 per square foot for radiant floor heating systems. Generally, these come with heating cables, heated floor mats, or heat strips for your preferred heating method. Overall, radiant floor heating may cost approximately $1,700 to $6,000. It also has a $200 low-end and a $10,000 high-end cost.
Warming up a 2,000-square-foot single-zone home with radiant flooring will cost approximately $20,000. Meanwhile, two zones and a boiler will cost $28,000. Lastly, three zones with extra insulation and a boiler cost $35,000.
Bathrooms are a popular option to consider for floor heating installations. Hydronic or water-based systems cost $6 to $20 per square foot, while electric heating costs $8 to $24 per square foot.
Radiant Floor Heating Type Cost
Hydronic floor heating system with the manifold. 
Electric and hydronic radiant heating floors are the most common types on the market. Installing an electric system ranges from $8 to $15 per square foot. Meanwhile, hydronic ones cost $6 to $20 per square foot. The hydronic system is more affordable since the water provides long-term heat storage. Propane costs $6 to $18, and solar costs $18 to $25 per square foot. Finally, geothermal costs $7 to $17 per square footage.
What affects the radiant floor heating installation price?
The following cost factors add to the total cost of the radiant floor heating installation.
Floor Type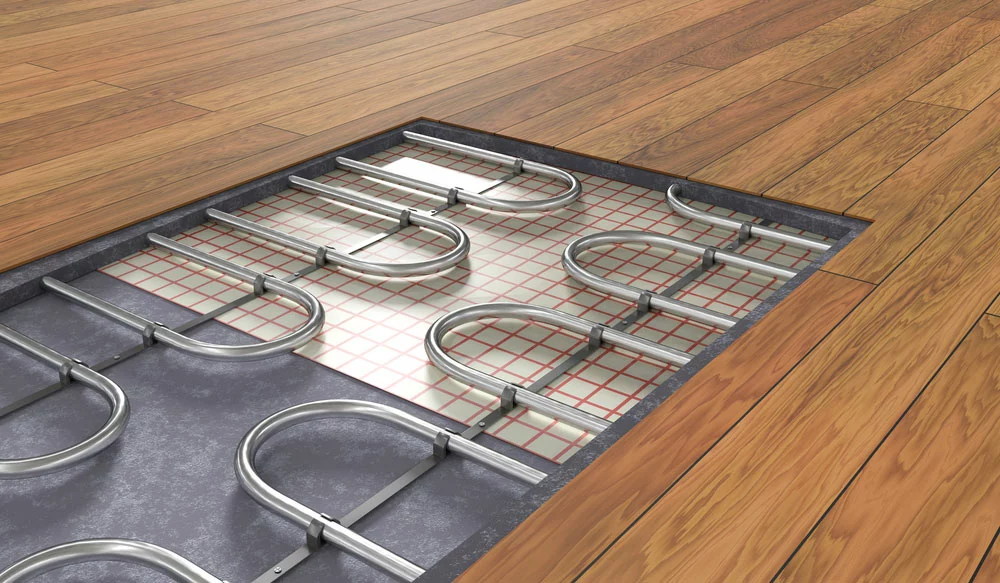 Radiant flooring underneath hardwood.
You can install an underfloor heating system beneath the various type of flooring, which differ in price. Marble floors cost more than $12 to $60 per square foot. Concrete costs $4 to $6 per square foot. Vinyl, an affordable option, costs from $2 to $15 per square foot. If you want hardwood flooring, expect to pay $10 to $25 per square foot.
Materials and Labor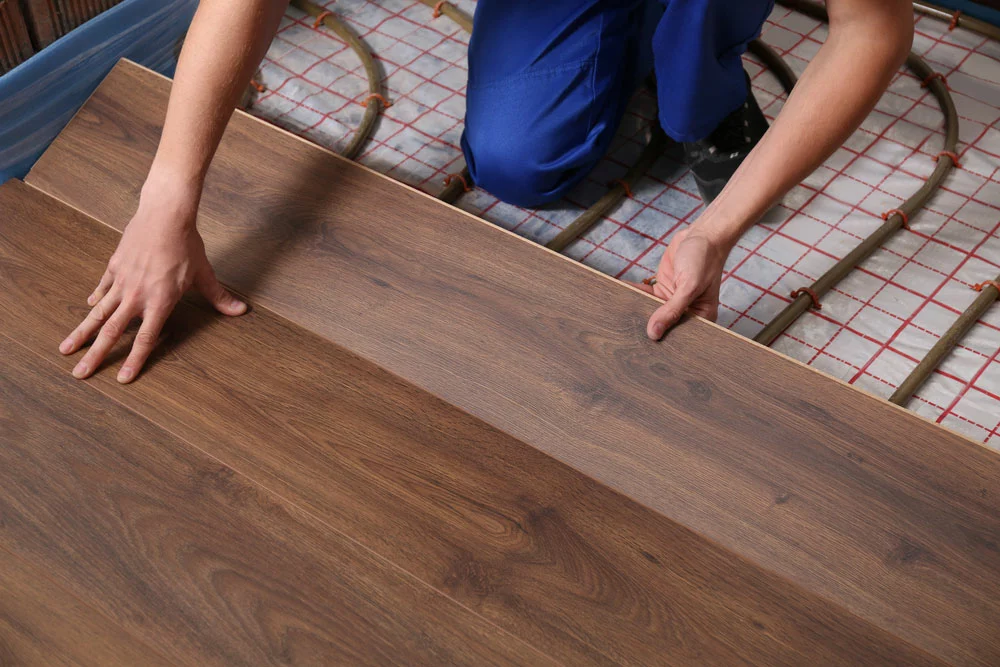 Worker installing laminate flooring atop the radiant heating system.
Generally speaking, labor contributes the most to the overall cost of radiant floor heating. While labor cost ranges from $8 to $12 per square foot, the flooring materials typically cost $1.50 to $2 per square foot. However, material and labor prices vary, making them higher in certain places.
installation area
Your preferred installation area will also determine the final cost.
Prices will also vary if you place the underfloor heating system in a specific room with different flooring. So basements with concrete floors will cost approximately $11,200 – $31,000 to install a radiant flooring system. Because a garage is more accessible, the price decreases to $8,000 – $17,000 even though they also have concrete floors. Meanwhile, kitchens cost $2,500 – $7,000, bathrooms cost $1,900 – $5,500 for radiant flooring.
Preparation and debris removal
Your total bill could also increase due to on-site preparation, clean-up, and debris removal. In this case, preparation involves foam placement, digging, and compacting. So the difficulty level of those tasks contributes to the final price.
Benefits of Radiant Floor Systems
You will quickly discover many benefits of radiant heat flooring that make the project worthwhile. This includes minimal maintenance, high energy efficiency, and higher comfort.
Minimal maintenance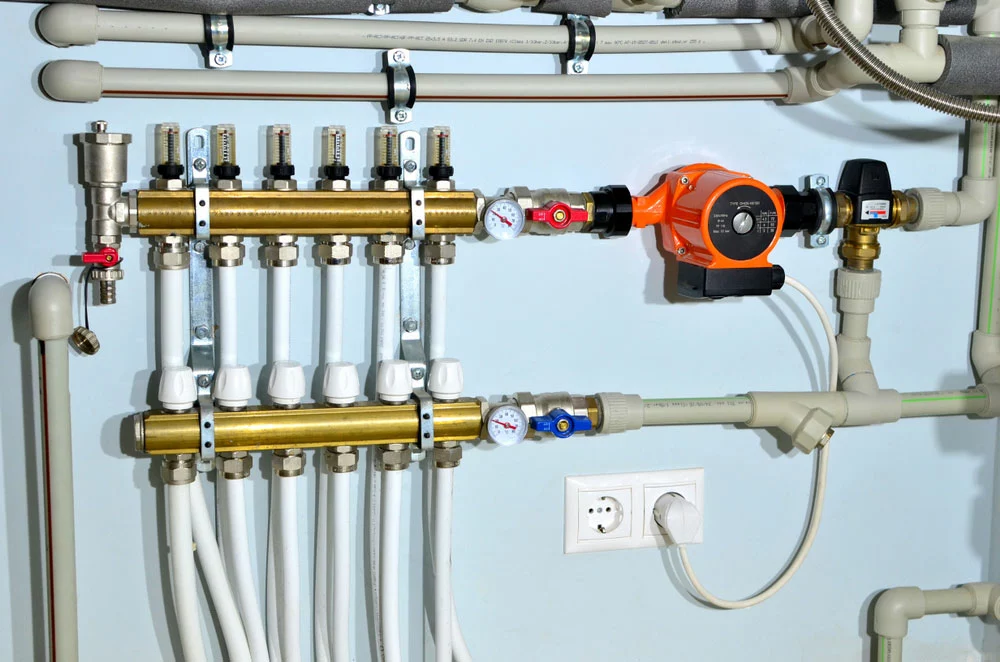 An underfloor heating system requires very little maintenance. 
Generally, many radiant floor systems require no maintenance. However, a hydronic system differs because you must apply lubricant on the pump bearings. Meanwhile, a hydronic specialist inspects the boilers every one to two years.
High energy efficiency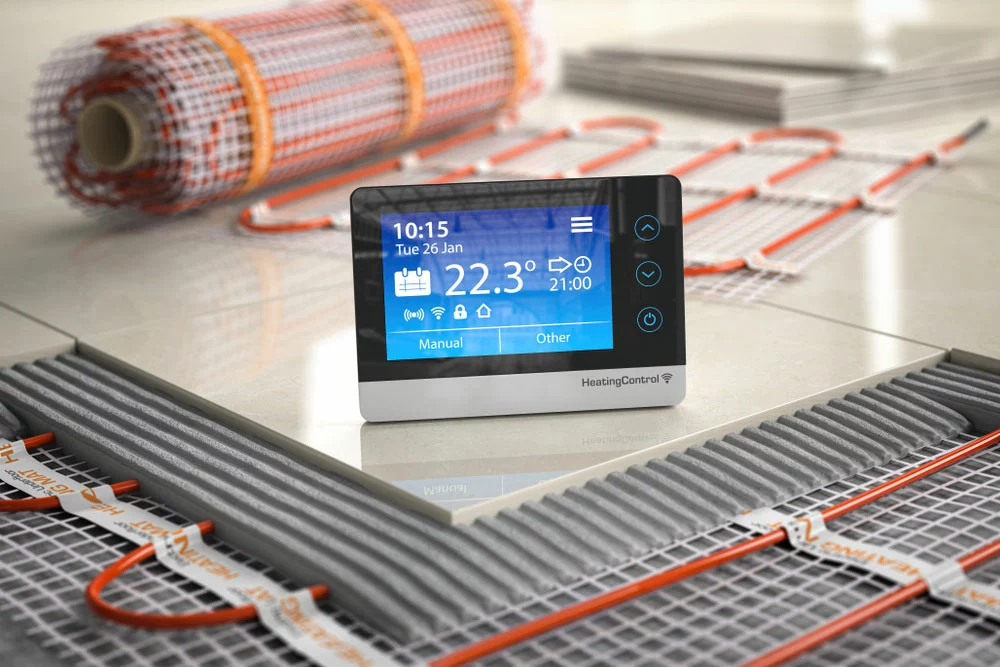 You can save more money with a radiant heating system!
As you can imagine, heated flooring leads to more energy bill savings! Keeping it on around the clock costs $3 compared to the $20 price of a standard heating system.
More pleasant

Radiant flooring systems can keep your feet warm during cold days.
Lastly, radiant floor heating provides more comfort since it doesn't produce cold spots or drafts from forced-air heating systems or radiators. These systems also prevent the air from drying out, making breathing easier during winter.
Radiant floor heating Cons
As with everything else, radiant floors also have some drawbacks. Considering the price, higher floor elevation and floor placement would be best.
Price
Materials and labor will cost more in the long run.
Installing an electric radiant floor carries a hefty price tag due to the average cost of labor and materials. You will incur long-term savings since it is more energy-efficient than traditional heating systems. Meanwhile, transitioning to a hydronic system is more expensive because it needs gas lines, a pump, and a boiler. However, you may require replacements if they age or no longer work.
Slightly higher floor elevation
The floor levels increase by ½ inch to 1 inch since radiant heated floors settle atop tubes and wiring. You will need to consider that fire with swinging doors cause them to get stuck.
Floor placement
Applying a self-leveling compound is required to set the radiant heat flooring system. Therefore, you will need to wait one or two days for the entire project to dry.
FAQs
Is it worth having heated floors?
Yes. Although installation costs may seem high, you will see a 10 to 30% decrease in your energy bill.
Are heated floors energy intensive?
No. Radiant floor systems consume 12W of power per square foot hourly.
How long do heated floors last?
On average, heated floors can last between 20-35 years. Meanwhile, the components have varying lifetimes. Although boilers operate for 15-20 years, the coils and tubing have a lifespan of 20-35 years.
Summary
Radiant floor systems have proven beneficial in the long run due to energy savings and increased comfort. Despite drawbacks, these systems can keep your home warmer than radiators or forced-air systems. Not only that, but you will also discover it keeps your floor and feet warm during those cold winter days many people dread. As a result, it makes the whole experience far more bearable.
Do you have any questions regarding radiant floor heating and its costs? Feel free to contact us!