Tiffany lamps are beautiful light fittings that are rare to find. They are part of the Art Nouveau movement. Tiffany and Co. handcrafted the lamps in the style of Louis C Tiffany.
They put together tiny pieces of colored glass to construct fascinating and unique things, resulting in classic stained glass lamps, lamp shades, window lighting, and lights. Though the original lamps have the mark "Tiffan Studios," it does not guarantee they are authentic.
The making of the original tiffany lamps is between 1890 and 1930. This blog will highlight how to identify tiffany lamps, their value, and every important detail.
Table of Contents
History of Tiffany Studios
Hand-made tiffany lamp.
Louis Comfort Tiffany is the founder of Tiffany Studios. Lous is the son of the Tiffany and Co. Jewelry Founder, and he started tiffany studios as a small design firm. He was a tremendous art enthusiast who became fascinated by glass early in his career.
This passion propelled his company to success and established him as a household brand in the glass business. Tiffany later started his glass factory. He hired artisans to produce glass with distinctive tones and textures. The Tiffany Studios lamps were a result of his creative endeavors.
For instance, favrile is a glass he created by mixing different glass colors when they were still hot. The result was an opaque color that we see in our favrile glasses. His creative nature didn't stop at that because he later created a brand-new technique for mounting stained glass that did not require heavy lead rods. That enables more detailed and delicate designs, which he has done. His design studios produced the exquisite stained-glass lamps we now adore during the late 19th and early 20th centuries.
How to Identify Tiffany Lamps
A house with tiffany lamps
To certify a genuine or fake Tiffany Studios Lamp, some traits and telltale indicators can help you. So, how can you tell a real tiffany lamp?
Here are some characteristics to look out for:
Look For a Grey Metal Under The Base
Search for a gray metal ring by flipping the lamp over. Genuine lamps weigh a lot and have a hollow, grey metal ring. They are made entirely of bronze. The large ring supports the lamp to keep it from breaking. When you stumble across a tiffany lamp that doesn't have the ring, know it is fake. 
The Base Should Have a Patina
The original Tiffany studios lamps' bronze base has a beautiful patina. A patina is a brownish or greenish film on the surface of the metal. It occurs due to oxidation after a long time. When looking for an authentic lamp, be keen to spot whether it has these colors.
Check the Quality of the Materials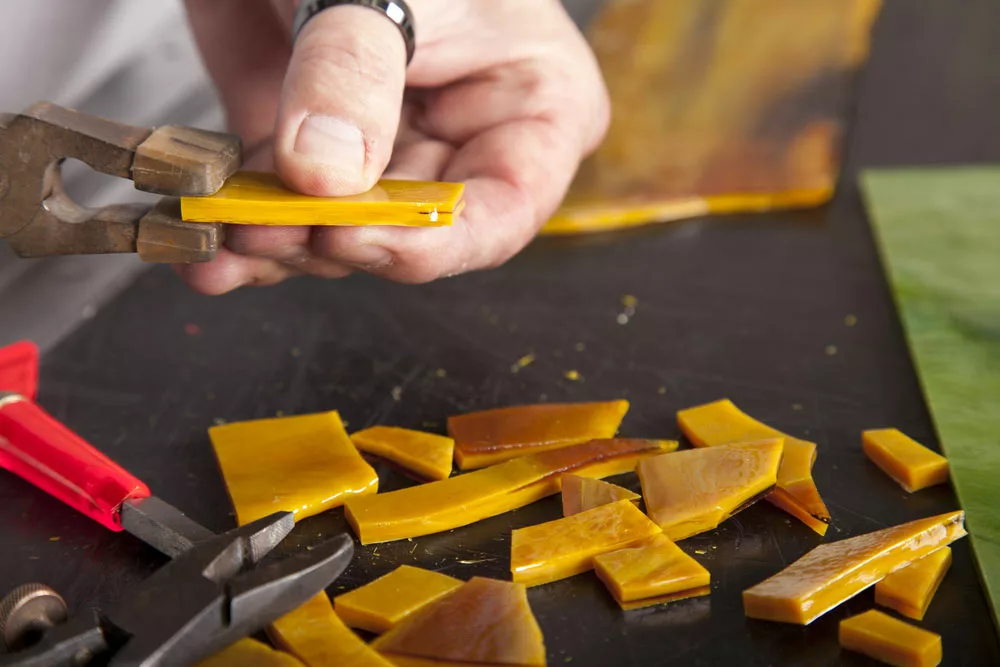 Man-making tiffany lamps
Tiffany Studios Lamps have high-quality materials. To differentiate the real from the genuine, look at the base. If you discover the materials are low quality or cheap, that is a fake tiffany lamp. The patina on the bronze material in the lamp's base should indicate its genuineness.
Check the Stamp and Signatures
Over time stamps and signatures were altered, but you can still identify a fake tiffany lamp from the real one. The original has stamps in capital letters. If you see a mixture of capital and small letters, that is a fake. Alternatively, you can look for markers mark. The mark has the name of the company and serial numbers.
Look for the Lamp motif.
The original Tiffany studio lamps have unique motifs. The signature motifs that are in their designs include: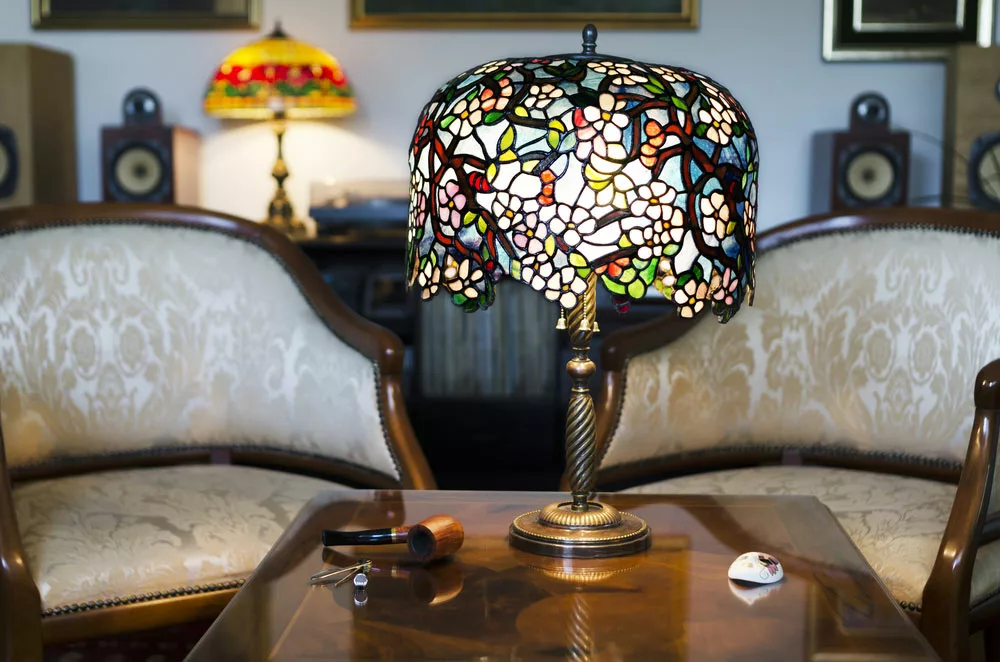 Hand-made tiffany lamp
Geometric shades
These are leaded glass shades. They feature patterns with shapes like squares, rectangles, and triangles.
Floral shades
This category comprises leaded glass lampshades with borders or full-coverage floral, leaf, and vine designs.
Figural Motif Shades
These leaded glass shades feature aquatic, peacock, dragonfly, and butterfly designs.
Jeweled Feather Shades
Usually, a geometric pattern is present beneath the feather glass with jewels.
Turtleback Shades
These shades feature a turtleback band bordered by a geometric pattern or entirely made of turtleback glass.
Linenfold Shade
The glass in these paneled shades has a linenfold shape.
Overlay Shades
These shades have a bronze overlay on a glass liner.
Check The Color of The Glass Pieces
The shade of Tiffany Studios Lamps will have gold-colored glass. The glass has an amber sheet, and it's translucent. To know whether the glass is genuine, look for green or silver sheen floss. If they are present, it is fake. The distinctive amber tint of genuine Tiffany lamps will never change.
Look for Confetti Glass
Tiffany Studio Lamps have vibrant colors and textures in their glass design. Look at the glass carefully to see if you can find any tiny dots of color or confetti. If they don't have confetti, then they are not genuine lamps.
Check the Authenticity of the Glass
Brush the glass with a cotton swab that has a nail varnish remover. The pigment from the real lamp color won't fade. The fake tiffany studio lamp's color will run off.
Why Are Tiffany Lamp Studios Valuable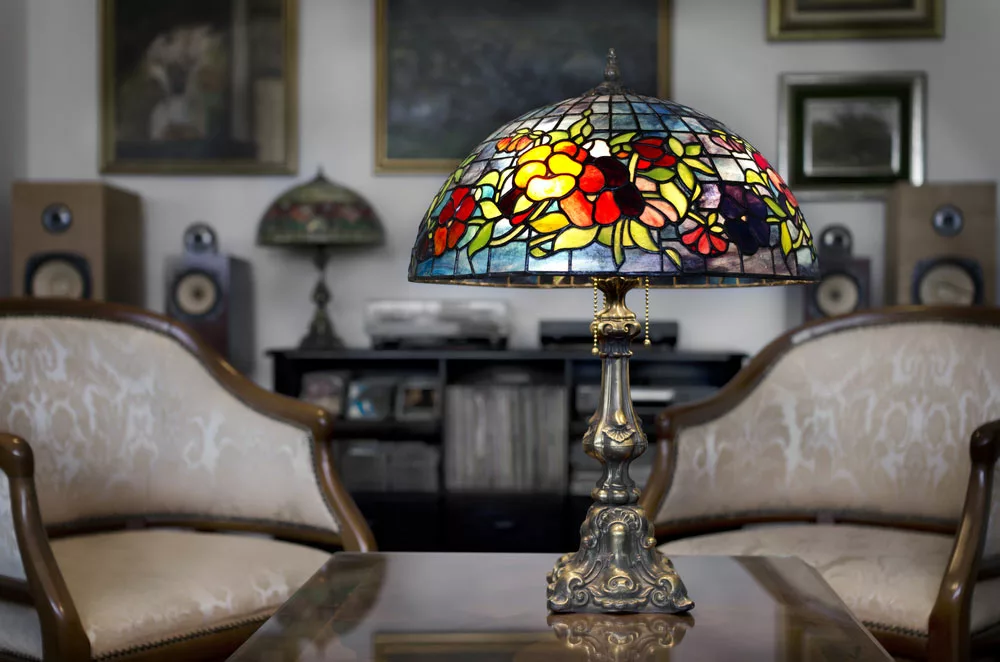 Tiffany Lamp
Antique Tiffany Lamps are most popular with art and collector communities. A recent auction on an antique lamp sold for $3.37 million; this is the first piece to sell at that price. Why are they so valuable?
 Here are some facts;
Rare
It is hard to get a tiffany lamp worldwide because Tiffany Studios no longer produce them. The last production was in the 20th century, and that's why you mostly get them in auction shops.
Craftsmanship
Tiffany made these lamps using special and unique methods. He was using the foil technique to secure the stained glass. The technique is excellent because you won't need big rods to hold your stained glass in place. He also invented the favrile glass, which gave the glass an iridescent color making the lamps look vibrant.
How To Buy Genuine Tiffany Lamps Studios
Tiffany lamps
You can get tiffany lamps in an auction or the gallery house. You may also be lucky to get them from estate sales, family attics, and antique shops. Always ensure you are dealing with reputable dealers.
If you go the auction way, follow these steps;
How to Identify Tiffany Lamps: Review the Pre-auction Catalog
Most galleries will give you one. Before the auction, you can research and find things from the list that interest you.
How to Identify Tiffany Lamps: View it in Person.
Seeing something in Person instead of seeing it on the screen can alter your perception. You can request a thorough report on the item's history and condition from the auction house. That will help you check any sign of authenticity.
How to Identify Tiffany Lamps: Attend Auction
Live actions are excellent. Although you can place bids online or by phone, attending an auction is a good decision. It will help you make a conscious decision.
Are Re Productions Valuable?
Yes, they are valuable. Even though fake Tiffany lamps are mass-produced, they can sell for a high price. That is because they are associated with the tiffany studio name. Most people will love to have a piece of art or decoration associated with tiffany studio.
Should You Seek Expert Opinion Before Buying?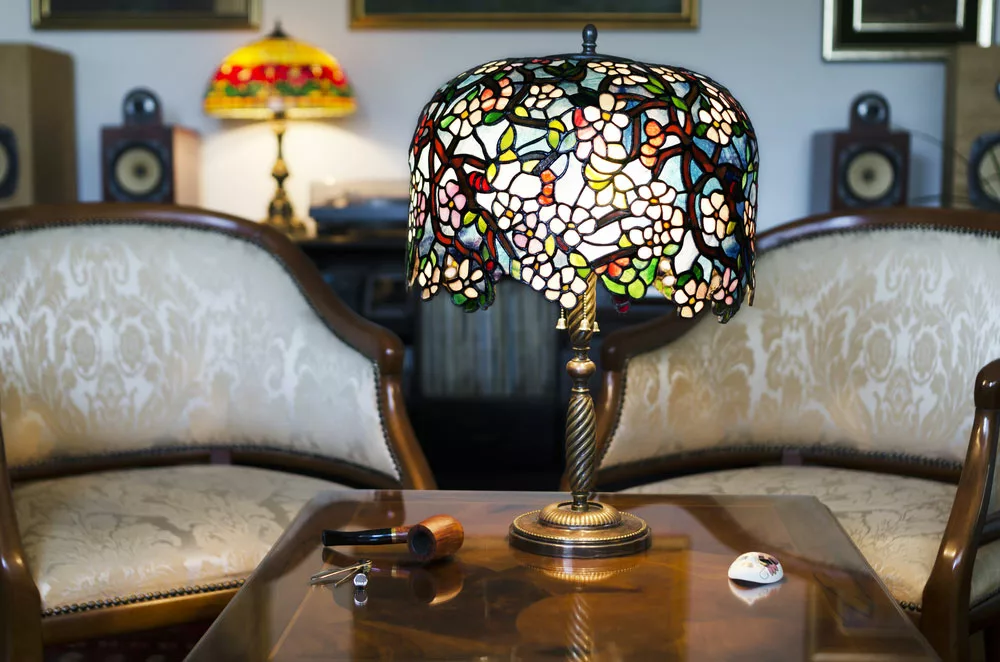 Type of tiffany lamps
You can seek an expert opinion because purchasing or selling such a valuable art takes time and effort. An expert can help you identify the lamp's authenticity, current market value, and tiffany lamp value.
Summary
If you opt to buy a tiffany lamp, look out for authenticity. The above tips will help you know how to tell a real tiffany lamp. Altanertavely, you can ask for a money-back guarantee from the vendor. Genuine dealers will accept those options.