While it might be cheaper to install LED bulbs, integrated-LED fixtures have durability and efficiency advantages. Therefore, they might be more economical in the long run.
And the benefits don't end there! We will look at what these light fixtures have to offer, as well as how you can incorporate them into your home. Let's get started!
What Are Integrated LED Light Fixtures?
Integrated LED lights are complete fixtures with LED arrays built into the units. These include chandeliers, spotlights, lamps, etc. Manufacturers are increasingly moving towards making and selling this integrated design for three reasons.
First, integration gives them more control over the color, lumen output, and color temperature of the fixture, which helps with marketing.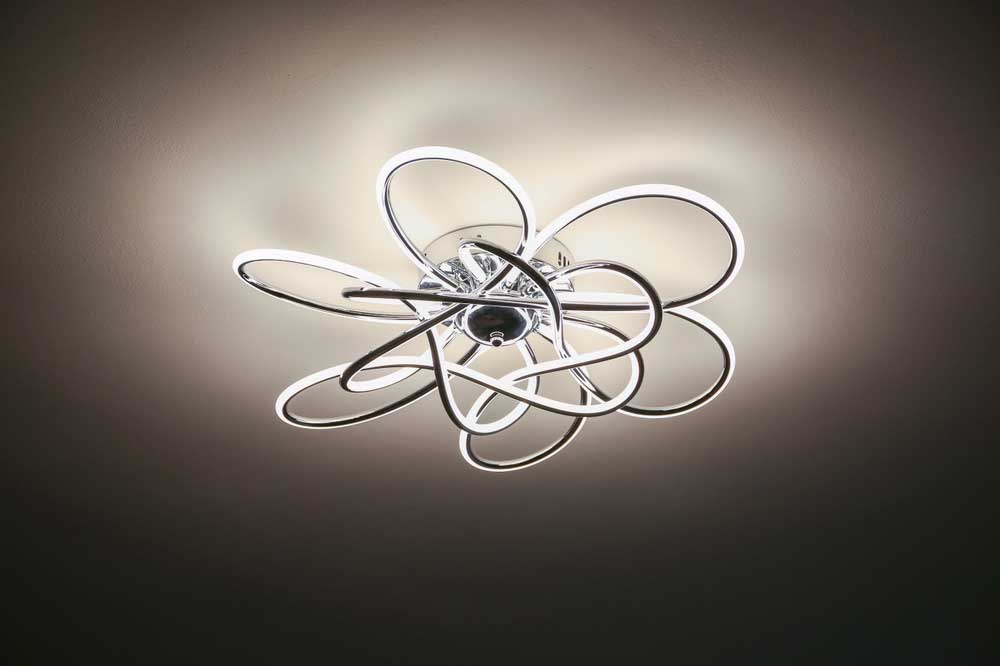 An integrated LED light fixture
Second, integrated-LED fixtures usually have a longer lifespan than regular LED bulbs. For instance, a typical LED bulb can operate for roughly 3,000 hours, while a bulb light fixture can have a 50,000-hour lifespan. These systems have better heat dissipation mechanisms that control the LED module's temperature, which increases their service life by a wide margin.
Lastly, integrated LED bulbs can be slightly more energy efficient than their regular LED counterparts.
What Types of Integrated LED Light Fixtures are Available?
There are multiple LED integrated fixture types in the market, but the most popular ones include the following.
Standard
Standard-LED fixtures hang downwards from the ceiling with chains or hooks for support.
Standard LED fixtures
Can/Recessed
Recessed lights are fixtures installed into an opening in the ceiling. They almost sit flush with the surface and shine directly downward.
Flood
Floodlights are usually for outdoor applications to illuminate large areas. They are the opposite of spotlights.
Globe
Globe lights are large, round light fixtures used for decorative purposes, usually in the hospitality industry. These include restaurants, bars, hotels, etc.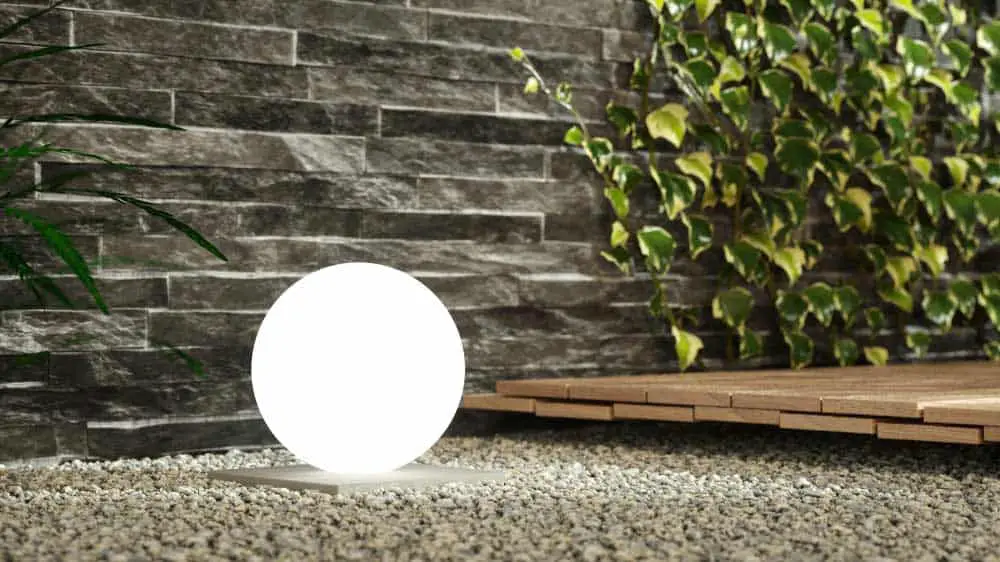 A globe light
Differences Between LED Bulbs and Integrated LED Lights
LED bulbs and integrated lights have the following benefits and drawbacks.
Benefits and Drawbacks of LED Bulbs
Benefits
Cheap to set up and retrofit
High energy efficiency and gives a quick return on investment
Offers size, texture, shape, beam spread, and color temperature flexibility
Easy to fit in most new and old light fixture options from different manufacturers
An LED bulb in a ceiling lamp
Drawbacks
Benefits and Drawbacks of Integrated LED Lighting Fixtures
Benefits
Higher lumen output equivalent to a 35-50W halogen bulb
Longer lifetime rating
Easier to control dimming
More control over the appearance and light output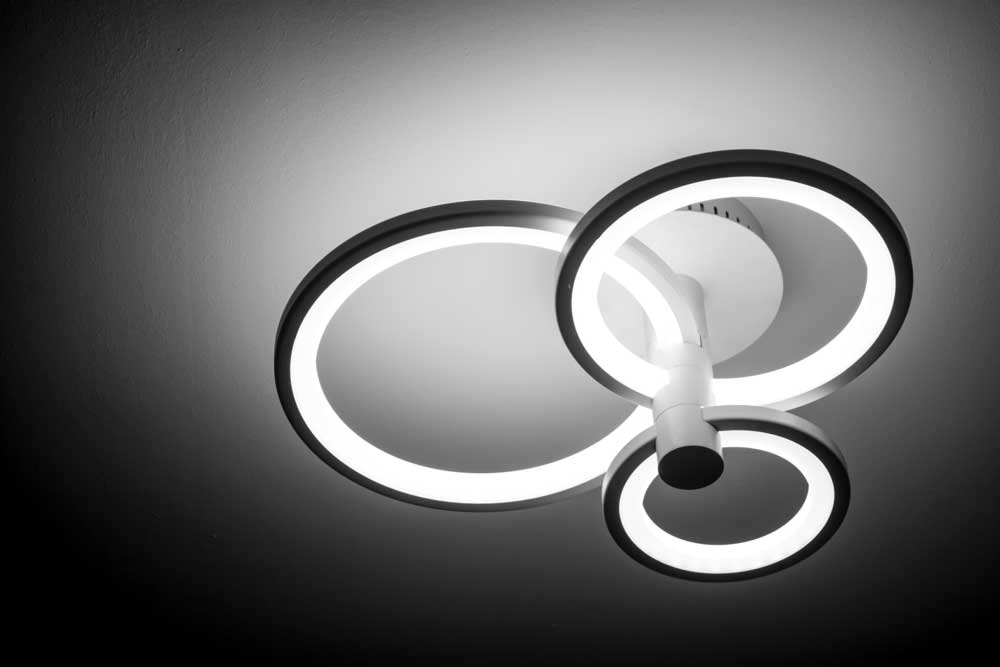 An integrated LED fixture
Drawbacks
Costs more when retrofitting
Expensive to buy
Difficult to install and upgrade
Limited texture, shape, size, and architectural options
LED Ready vs. Integrated LED: Which One Do You Need?
Compared to integrated fixtures, LED-ready fixtures do not come with LED bulbs. Therefore, you can buy any LED bulb of your choice, so long as it fits and has the right shape and wattage. This freedom of customization enables you to pick your preferred bulb brightness and color temperature.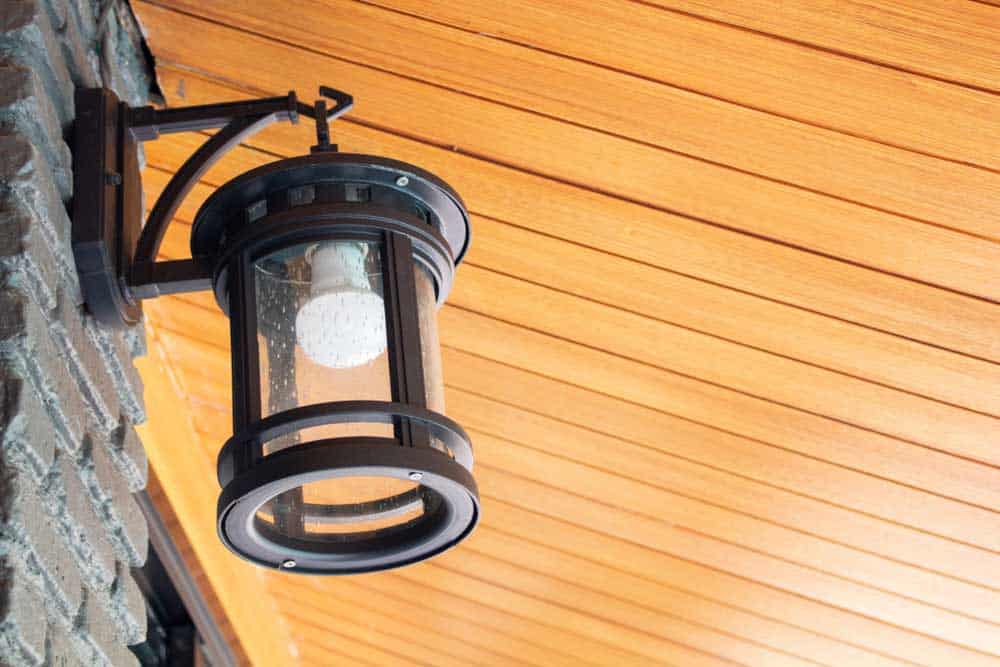 An LED-ready wall fixture
The installation process is equally as complex as the one in integrated-LED lighting, but replacing or upgrading the bulbs is easier.
Which One Do You Need?
Consider the following factors when deciding which fixture is best for your building.
Do The Current Fixtures Need Major Repairs
If the combination of repair costs and the price of new LED lamps is high, it might be more economical to buy an integrated one. 
Building Codes
Building codes differ in each county, and the code's energy efficiency requirements might be more stringent in your location. Ensure you buy a fixture that meets these requirements.
Rebate Opportunities
DLC-qualified lighting fixtures can earn you rebates. Several electric utility companies support the DLC (Design Lights Consortium), a non-profit organization that establishes LED lighting and controls as the gateway to connected infrastructure.
DLC qualifications require a minimum efficacy rating for every bulb or fixture type. They also demand standards for CRI, service life, and color temperature.
Besides that, you can get local rebates for meeting high energy efficiency. Be on the lookout for that. Consider buying fixtures that will give you the highest refunds.
How To Incorporate Integrated LED Light Fixtures at Home?
You can incorporate entire fixtures into your indoor or outdoor spaces in the following ways.
Ceiling
Pendants: These are single medium-to-large sized hanging lights suspended by a rod or chain. They come in different types, ranging from cylindrical, ornate, chandelier-like, etc.
An LED chandelier
Multiple Pendants: These lights are combinations of several tiny pendants hung at varying heights. The design creates an artistic flowing effect that enhances the room's aesthetics.
Multiple pendants
Mini Pendants: Mini pendants are simplified or scaled-down versions of pendants that are ideal for small spaces.
Monopoint: These are single-pointed lights that you can install as one or in a group.
Beauty Spots: As the name suggests, these fixtures optimize a room's beauty. They cast light across the ceiling to create an eye-catching display. They have a low-profile design like flush-mount fixtures but dazzle like pendants.
Flush Mount: Flush mount fixtures sit flat on the ceiling, creating a sleek, low-profile look.
Semi-Flush Mount: These have a small canopy that makes them more decorative while still taking up little space.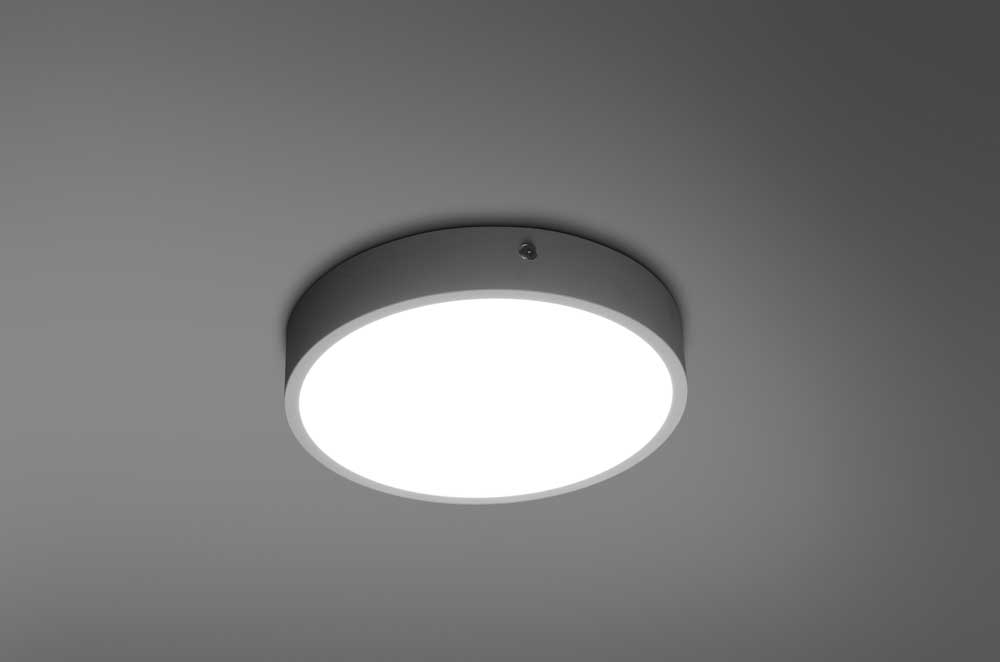 A semi-flush mount fixture
Recessed
Recessed Downlights: A recessed downlight provides several beam spreads and gives a room a modern, contemporary look.
A recessed ceiling light
Linear Recessed Lights: These fixtures provide illumination strips on a wall/ceiling to add functionality and a modern look.
Multiple Recessed Lights: These lights provide several LED configurations (usually 2-4) that you can position strategically.
Wall
Sconces: Sconces add some ambient lighting to living rooms and can be perfect for movie or reading rooms if they have a dimming feature.
Vanity: Vanity lights pair up perfectly with wall sconces for bathroom applications, but you can also use either one.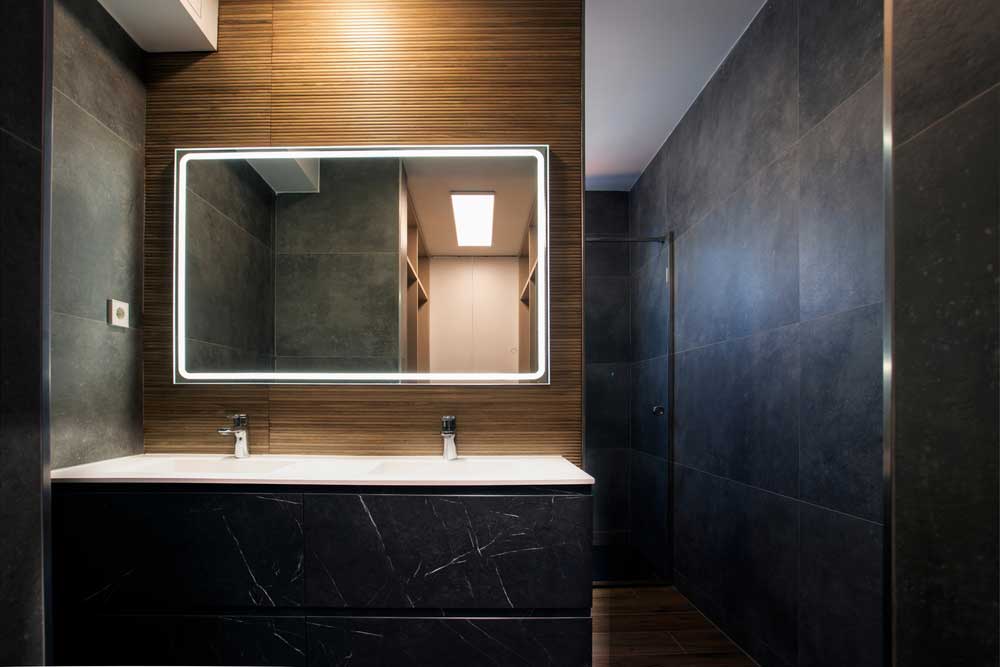 LED vanity lights integrated into a mirror
Swing Light: These lights are ideal for placing near beds as reading lights.
Picture Light: Wall picture lights are suitable for shining soft light on objects in offices and galleries.
Track
These fixtures contain multiple lights fixed to a suspended or ceiling-mounted track.
Track lights in a showroom
Under Cabinet
LED Tape and Strips: These provide simple, low-profile lights for placing under cabinets to highlight the displayed items inside.
LED strip lighting in a wine glass cabinet
Puck and Button Lights: Unlike tapes and strips, puck and button lights provide concentrated beams under cabinets.
Bar Lights: These fixtures provide bright coverage where you need the light.
Outdoors
Outdoor LED fixtures include:
Wall sconces
Step, ceiling, landscape, and indicator lights
Bollards
Pool and water-feature lights
Wall sconces placed outdoors
FAQ
If there's something we've left out, here are answers to the most commonly asked questions.
Are Integrated LED Lights Replaceable?
Not directly. Unlike retrofit LEDs, the integrated type has the diode circuit on the PCB. Therefore, replacing a diode on the board is not easy. However, you can request a replacement or a free repair if it is still under warranty. Otherwise, you can play around with the fixture or take it to an electrician.
Is An Integrated LED Faulty When It Starts To Flicker?
It depends. The most typical issue is with the fixture's transformer. LEDs operate at low voltages, so they have a step-down transformer to lower the line AC voltage. These transformers also protect against fluctuations if there is a voltage surge or the circuit has multiple heavy-power-load appliances. Therefore, if it flickers, the transformer could be faulty.
Summary
As you can see, the benefits of integrated LEDs far outweigh their drawbacks, so it is worth installing them. Additionally, there are several ways to incorporate the lights into your indoor and outdoor spaces. If you need these fixtures or have any questions relating to the article, reach out for further assistance.