Most homes and businesses are switching from fluorescent and other light bulb types to LED bulbs/tubes because they give incredible energy savings. However, fluorescent and HID lighting fixtures use ballasts to regulate the power going in. Therefore, switching to an LED tube requires an LED ballast. But what is an LED ballast? And does such a device exist? Read on to learn more!
What is a Ballast?
A ballast is at the heart of the functional mechanism of HID and fluorescent light sources. The device regulates the current flowing into the lamps and ensures the lamp has sufficient voltage to start.
Ballast wiring in a fluorescent lamp circuit
These lamps don't have a regulator. Therefore, they can draw excess or little power without a ballast. This instability can make the bulb uncontrollable, especially if connected to a high power source.
A ballast for LED lamps
Types of Ballasts
There are two ballast types.
Magnetic Ballast
This ballast is an inductor containing a magnetic core and a coil/wire wrapped around it.
An inductor coil (the core of a magnetic ballast)
Since it operates as a transformer, it provides clean, specific power to start and run certain lamps, including the following.
Neon
HID (High-Intensity Discharge)
Fluorescent
However, they are heavy and produce a humming noise, a factor associated with fluorescent tube lights.
Electronic Ballast
An electric ballast uses solid-state circuitry instead of a transformer to operate.
This design has the following three benefits.
It eliminates the humming noise.
The circuitry is lighter and more energy efficient.
It maintains a precise and more stable current flow than the magnetic type.
An electronic ballast
Therefore, most fluorescent fixture manufacturers switched to this type in the late 80s and 90s.
Which Light Bulbs Need A Ballast?
Halogen and incandescent bulbs don't require a ballast. You only have to screw them into the socket and switch on the lights.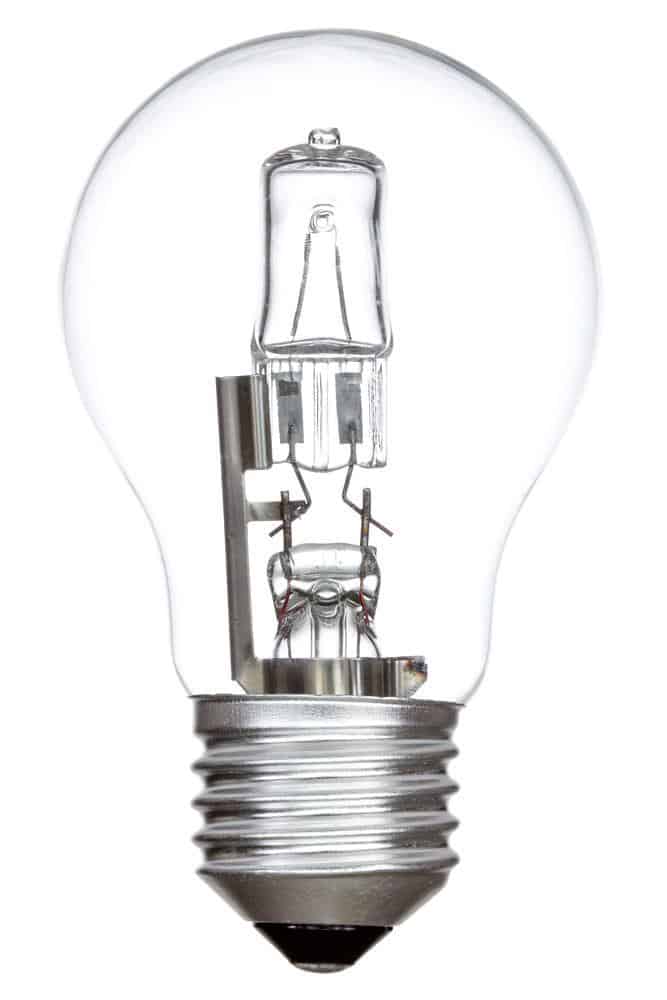 A halogen bulb
However, all HID and fluorescent lamps need a ballast to operate. But unlike regular fluorescent tubes, compact fluorescent bulbs (CFL) have compact ballasts integrated into their circuitry. Some HID bulbs feature an integrated ballast, while others have an exterior one.
Compact fluorescent lamps
LED bulbs don't need a ballast. Instead, they use an external or internal driver. However, some LED lamps can work with an existing ballast. Therefore, you can find plug-n-play or ballast-compatible LED bulbs to replace CFL, HID, or linear fluorescent bulbs without requiring any modifications.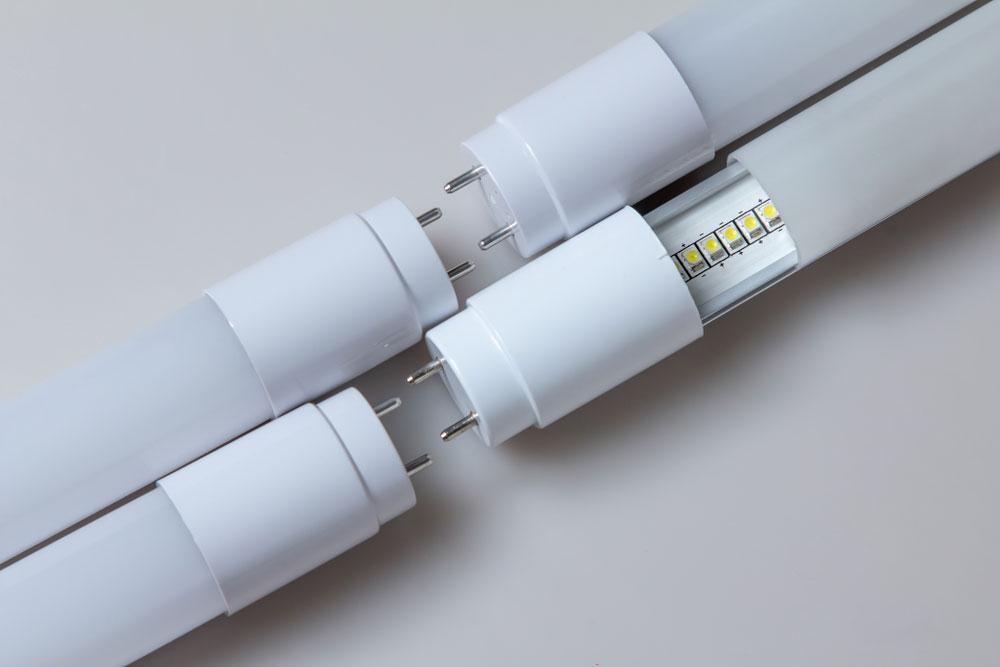 LED tubes
What is an LED Driver?
Some people mistakenly label LED drivers as electrical ballasts for LEDs. Internal or external LED drivers are devices that regulate the power going into a single or string of LEDs. Drivers ensure they get a constant input voltage even if the line voltage varies by a wide range. LEDs are sensitive and can get damaged by current fluctuations.
An LED driver
Additionally, the electrical properties of LEDs vary with temperature changes, and the driver responds to the changing power needs. The drivers might have pulse width modulation circuits for dimming and multiple channels for individual control of different LED colors.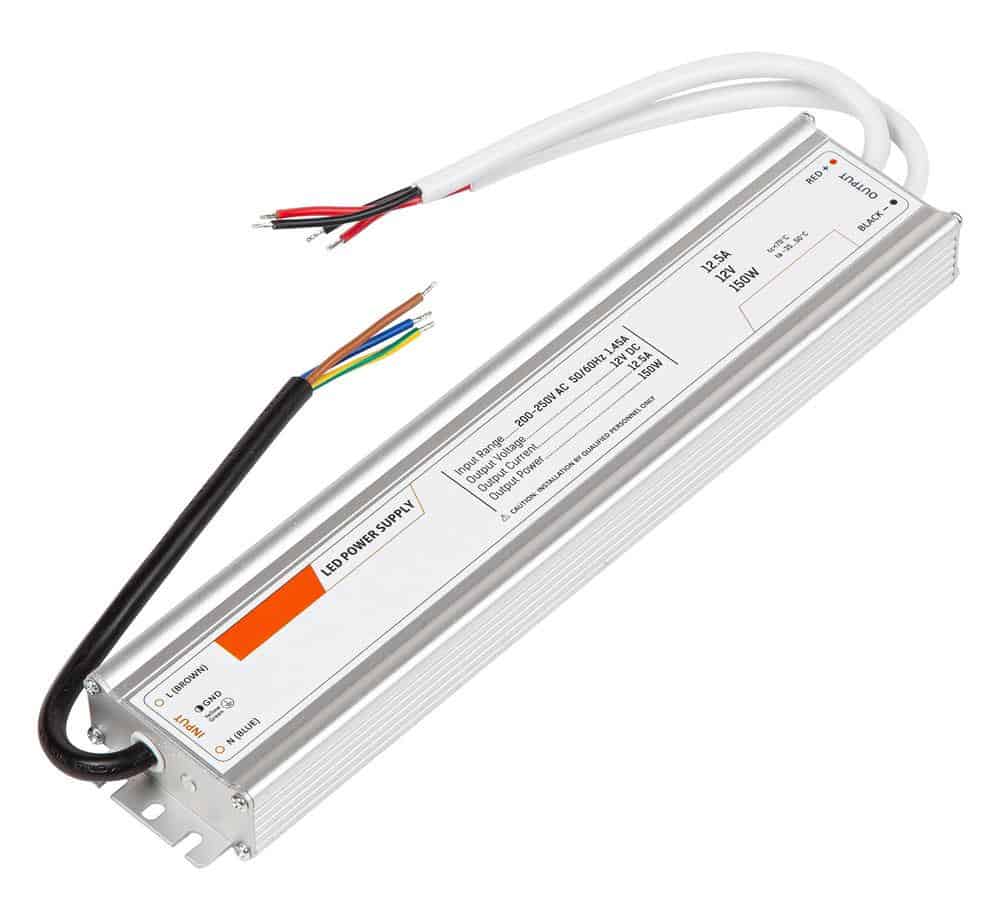 An LED driver in a metal housing
In a nutshell, LED drivers operate like ballasts but with more precision and efficiency.
Do You Need a Ballast for LED Lights?
LEDs don't need a ballast due to the following three reasons.
Ballasts are large and cannot fit in bulbs
LEDs don't require large amounts of current
They run on DC, so they need an AC-to-DC converter (a driver does this function)
It is possible to engineer drivers to be much smaller and fit in bulbs, but ballasts are large devices. However, some LEDs are ballast compatible. This classification shows their compatibility.
Type A
Type A LED fixtures can work with existing fluorescent ballasts because their drivers are ballast compatible. LED tube light manufacturers like Phillips, GE, OSI, and Green Creative have built such tubes and listed the number of compatible ballasts for their products.
Type B
These lamps can handle the line voltage (110V) directly. Therefore, they require a ballast bypass with no external driver. Usually, they have an integrated driver inside the tube to power and control the LEDs. Such systems are becoming popular because they eliminate the external driver or ballast failure issue. However, they have safety concerns and can have fewer incentives from local power utility companies.
Type C
Type C tubes are not ballast-compatible and don't have internal drivers. Instead, they need external direct wire drivers. Therefore, they require high expertise to install because of the ballast removal and driver installation. This complex installation translates to expensive labor costs. However, the tubes have a long lifespan (can last up to 70,000 hours), and you can get incentives from your local utility company to offset the installation costs.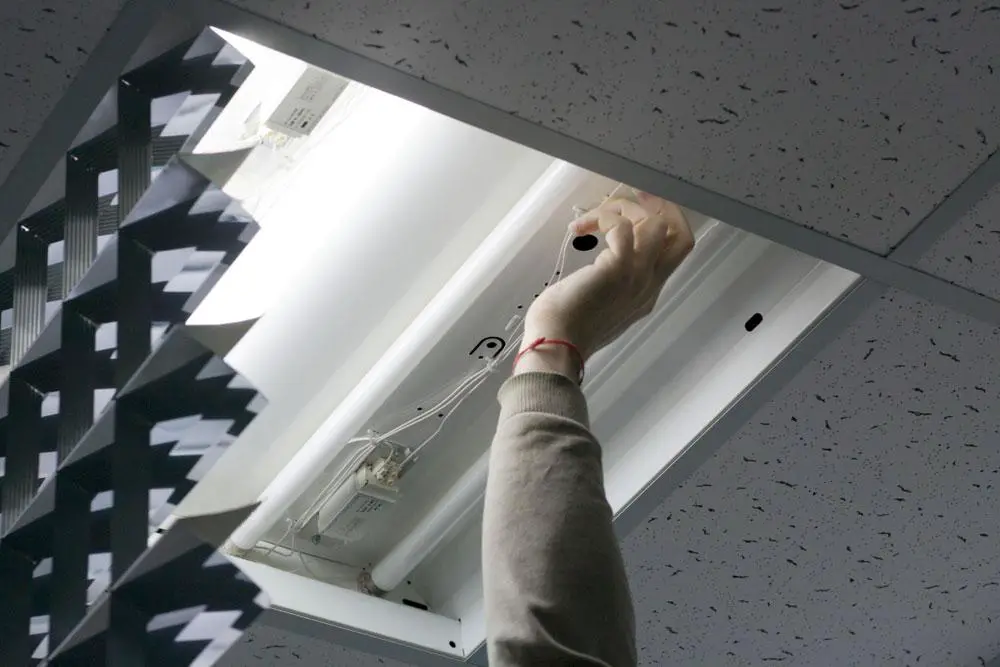 Fluorescent light replacement (note the ballast)
Ballast vs. Direct Wire LED Tube: Which Type is Better?
Ballast-compatible or direct-connect LED tubes are easier to install because you don't have to remove the ballast.
However, ballasts fail at some point. Some do not last as long as LEDs. You will have to replace the device when it burns out to get the LED tube to work again.
Not only will you incur labor costs, but you must buy a new ballast. Therefore, you will incur higher costs and spend more time during this repair process.
A burned-out ballast
On the other hand, direct wire LED tubes are difficult to install at first because you must remove or bypass the ballast. As stated earlier, this installation can be expensive if you have to hire someone to do the job.
However, eliminating the ballast from the equation means the LEDs will never go off due to a ballast failure. Therefore, you won't have to spend time or money to replace the component later.
Wrap Up
In conclusion, LED ballasts could refer to LED drivers or fluorescent ballasts compatible with LED tubes. But the word usually refers to the latter because LED drivers are technically and functionally different. We hope this article has been insightful. If you have any questions or comments, contact us for further details.