LED light app symbolizes the evolution of the lighting industry for many reasons. These reasons include lower maintenance requirements, reduced energy consumption, and extended lifespan.
However, this case has caused a fall in lamp and fixture purchases. With that, more facility managers want to upgrade their smart lighting systems with the LED lights app or day better LED lights app.
This post will discuss LED light apps and the best options for Android and iPhone users.
What is an LED Light App?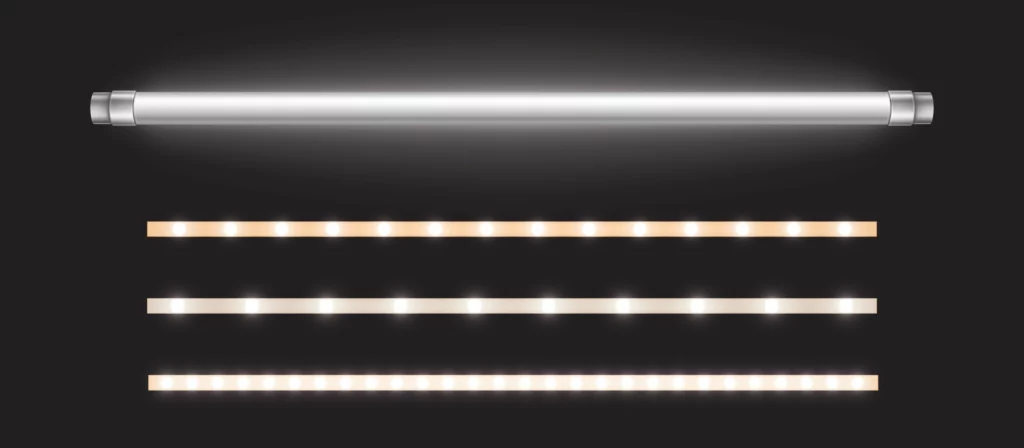 Tube lamp and LED strips
An LED light app is an app compatible with LED lighting technology. In addition, there is a single-tasking app. Of course, it controls a single, smart device in the home. Also, the multi-tasking app controls several smart electronic devices and can create millions of colors. 
Some multiple smart device apps can work with Android and iOS forms. Others are more generic smart device apps. For instance, you can use Smartlife to control your garage doors, smart lights, and water sensors, apart from using it for LED lights.
Some LED light apps allow you to organize lights in different rooms using a Bluetooth app. You can even control the light brightness and color. Some apps even support various lighting brands and allow you to connect them to your Apple Watch. Others are perfect for many brands of smart gadgets.
The Best LED Light App for Android
Using a smartphone app to control light Bulb and intensity
The LED lights app in this list allow you to dim your lights. They can even create custom scenes with you.
Lepro LampUX
You can control your LED lights with Lepro. Apart from that, it is compatible with Android and iOS. The main features can set timers and dim lights. You can also use these features to change colors or brighten the lights. In addition, Lepro can be used for other home devices besides LED lights.
The Lepro app also works with Google Assistants, Google Home, and Alexa by connecting it to your LED lights. Lepro LampUX is a great option as it offers many features and is compatible with many devices.
Magic Home Pro
LED light color controlled by smartphone app
You can get Magic Home Pro from App Store and Google Play Store. Also, this app is perfect for controlling your LED lights. Magic Home Pro is also compatible with iOS and Android devices.
The main features of this smartphone app are the ability to control brightness, set timers, silent mode, bright color, and change colors. In addition, the app has a color rotation feature that can control air conditioners, color temperature, color matching, fans, etc.
The app does not require a lot of time for syncing and scanning. The device's control is easy with the awesome UI design of the app. If you want a compatible app with a color wheel that works with various devices with more color shades, check out Magic Home Pro.
Lumenplay
Control or customize your LED lights with Lumenplay. You can create custom scenes and custom colors and control them easily, apart from dimming these lights.
One thing you will like about this app is its compatibility with various devices. Additionally, it is easy to use and free to download. Lumenplay is available on Google Play and App Store.
The app version on App Store is compatible with iPhones, iPads, and iPods. One of its main features is personalization for color values. For example, you can choose a library of scenes and colors. Other features include setting the direction of light, speed, brightness, effects, sleep timers, etc.
The Best LED Light App for iPhone
Women controlling smart lighting
You can use the LED lights app for iPhone in the list below to control all the electrical devices or the entire color spectrum in your home.
EufyHome
EufyHome allows you to select your LED light's colors. Also, you can use it to adjust brightness or set it to turn on and off at a specified time. EufyHome can pair your music with any infinite colors. 
Additionally, it can change the music tempo based on the musical rhythm. You can connect group devices and LED colors and monitor them simultaneously.
Create an account for the app to work. Then, use Bluetooth to connect your phone with the LED light app. Also, you can use multiple phones to control the device or a light spectrum color.
Happy Lighting
Smart Bulb controlled by smartphone
This app makes remote monitoring of your LED lights seamless. Not only that, but it also has many modes and functions for your devices. You can choose a specific flash type and color mode. Also, set the timer to on and off automatically.
Use Bluetooth to connect Happy Lighting with an LED strip. Unfortunately, any light devices may not interface with the app. In addition, Happy Lighting only works with "Triones, Light, Bluetooth multi-color, BRGlight, Dream" LED strips.
DuoCo Strip
If your LED strips have a control function, you will love this app! The app allows you to perform several interesting functions, like programmable color rotation. In addition, you can pair the app with your favorite movies, cartoons, paint colors, video games, and music.
Use Bluetooth on your phone to connect to the LED strip. DuoCo Strip can pick the signal through walls and even at a distance. It can regulate color mode and flash rate and turn on and off your LED light. Now you can enjoy the amazing atmosphere, turn on your favorite music, and connect to the LED light using this app.
Summary
When choosing your favorite LED light app, you may want to consider a few things. Some of them are checking the reviews, your device compatibility, and your preferred features. The apps above are compatible with various devices. They also have many features and are easy to use.
These LED light apps have an intuitive interface. You can pair them with most major LED brands. These apps are also compatible with Google Assistant and Alexa to produce many light colors.