There are many possibilities with LED lights, one being synchronization with music. Instead of having a dull party or one with colorful lighting but no life, you can try making the lighting strip lights feel alive by shining to the rhythm. LED lights with music can also be the perfect addition to your studio or living room to make the spaces feel cozier. Here is an in-depth look at what LED lights with music are and the best ones in the market.
What are LED Lights With Music?
LED lights with music do not act as speakers or play music. Instead, they are light strips that change color or display other effects based on the music playing in the room. They feature smart technology that reacts to the music beats, then lights the LEDs to correspond with these effects.
An LED strip in a reel with its dimmer power supply and driver
Can You Connect LED Lights to Music?
It is not possible to connect LED lights to a music source directly. The strips feature a built-in microphone in a music-sensitive controller with music modes. Once you activate the music mode, the light strip will synchronize with the music beats without Bluetooth or WiFi connectivity. Therefore, you will need room-filling devices for your music, such as speakers, to send the music sound waves to the built-in mic.
A white smart LED controller with its remote controller
Benefits of Syncing LED Lights to Music
Enhanced lighting conditions for activities like photography and videography
Lowers stress and anxiety levels while promoting creativity
Creates dynamism and impact during music performances
Improves the aesthetics and atmosphere in dull and lifeless spaces
Multicolor lights at a party
What To Look For in LED Lights with Music
Take note of the following features when comparing LED lights with music.
Control Options
Control should be more than a single setting or a few functions. Go for LED light strips with several reactive modes and lighting patterns so they can dance to the rhythm. Also, get a strip with several settings for brightness or multiple brightness effects.
Color Options
LED lights with music sync functions look livelier if they can display multiple color options. Ideally, the light strips should enable you to build a colorful set for your gaming rig, party, TikTok video shoot, etc., so look for RGB LED lights.
Connectivity Options
A music sync LED strip light is not complete if it does not have WiFi pairing or Bluetooth connectivity. However, these options are not part of the smart music mode. Instead, they provide wireless voice control as an alternative to the remote control, enabling you to adjust the settings using your phone or voice assistants like Alexa & Google Assistant.
LED control using a smartphone app
Safety
Always look for registration or ratings that indicate the strip light has undergone testing and certifications. Safety ratings are vital because they show the LED strips won't short or overheat. The most typical rating is UL/ETL safety certification. It shows the LED lights have undergone testing and meet the highest safety standards. Also, it indicates the strip has features like a fireproof power adapter and a built-in protection circuit that shuts down automatically due to a short or overload.
Ease of Setup
Lastly, installing the LED strips should not be a big hassle. You should not require drills, nails, or an electrician to fix the unit. It should come with installation directions, require a few tools, and take minimum effort to set up the lights.
LED installation or sticking using adhesive
How To Setup LED Lights with Music
First, determine where you want to install the lights. You might have to cut LED strip lights to fit the installation area. Next, hang the strip on the wall or ceiling by peeling the adhesive backing and sticking it to the surface.
After that, connect the mini-controller, then plug the bulb or strip light into the power source. LED bulbs come with an internal driver, but you will need an external driver for strip lights to step down and power the RGB strip lights.
An LED controller with its IR remote control
Finish the process by setting the controller to music mode, then play the music. The RGB LED light should pulsate to the beats coming from the speakers.
Best LED Strip Lights with Music
There are several LED strips in the market, but these four stand out.
Govee Smart LED Strip Lights
Govee's smart WiFi LED strip light is quite a bargain because it contains several features for a reasonable price. These include WiFi connectivity for mobile app control. The Govee Home app gives you control over the light's 16 million colors, 64+ scene effects, and music synchronization.
A gaming rig with LED lights
Additionally, you can use the app for smart color picking, which creates DIY color effects based on photos selected from your camera roll.
Besides the app, these smart WiFi LED lights feature hands-free voice control using Alexa & Google Assistant.
The strip is 16.4 feet long and contains 150 RGB LED chips, making it bright enough for porches, kitchens, gaming rooms, and bedrooms.
Nexillumi LED Strip Lights
This Bluetooth LED strip light is almost four times as long as Govee's unit above because it measures 65.5 feet. It features a sensitive built-in mic in the controller switch and comes with a 44-key IR remote control with four music-sensing modes. There's also a 3-button switch on the power cord to set the music mode, brightness, and color.
Since it features Bluetooth connectivity, you can control the lights via a smartphone app, provided you are not more than 50 feet away from the receiver. A microphone mode lets you play music from the mobile device's mic to activate the color changing and music effects. 
BlissGlow Multicolor LED Strip Lights
With its segmented RGB color control, this flexible strip can produce up to 12 colors simultaneously. And you can select your favorite setting directly from the integrated controller.
Alternatively, you can use the BlissLights app to connect to the strip via Bluetooth to design customized color presets. These include the color gradients, timers, and brightness settings.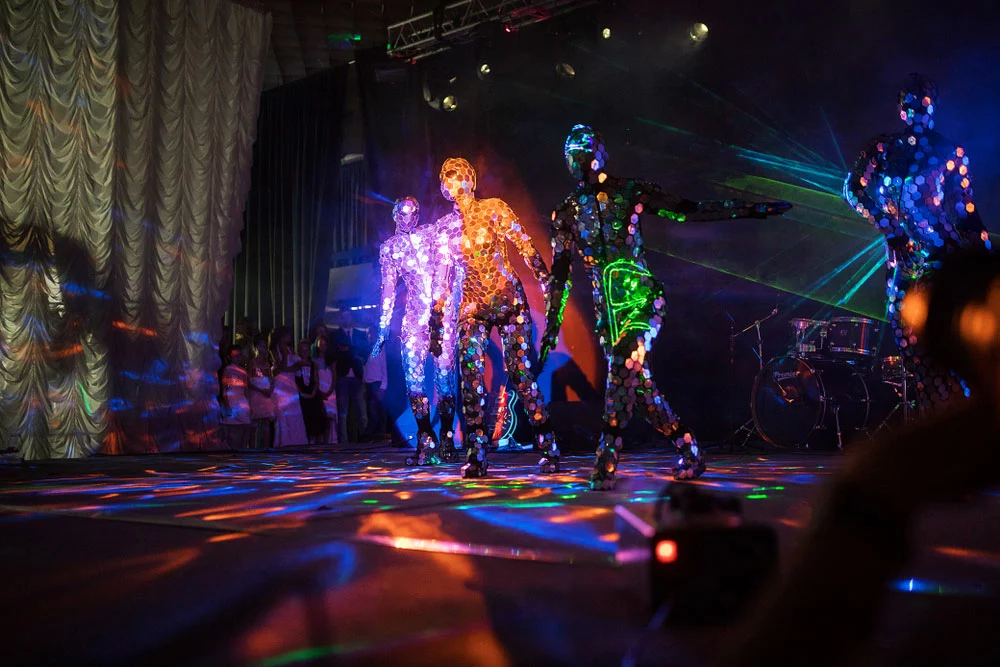 Dancers with LED suites and lasers
Music sensing modes enable you to shine to your favorite tunes, while an IP44 coating makes the flexible strip resistant to splashes.
TBI Pro LED Strip Lights
This all-inclusive light strip kit comes with two 16.4 feet Bluetooth LED strip lights, a roll of high-adhesion 3M double-sided tape, a 44-key remote controller, an IR controller, connectors, and a power adapter. You don't need extra accessories to install it.
In addition to Bluetooth, the color-changing strips feature WiFi connectivity for wireless control using Alexa-enabled devices.
An LED strip light with its remote control
The RGB LED strip lights are also waterproof. Therefore, you can use them indoors or outdoors. Since the package includes an extra strong 3M tape, all you have to do before installation is keep the mounting surface clean and dry, then stick the LEDs indoors or outdoors.
Conclusion
In conclusion, multicolored LED strips create a colorful display but LED lights with music build an immersive environment, especially when playing games or watching movies. The rhythmic lighting makes the room feel livelier and more dynamic, improving the overall lighting experience. That's it for this article. If you have any questions or comments, reach out for further information.