Most of us previously embraced lighting our space without considering energy consumption. But today's energy-conscious environment demands more efficient lighting options. For this reason, we turned to LEDs. You may hear the word "retrofit" when buying new LED bulbs. You can find retrofit LEDs in many stores (offline and online). But what is LED retrofit?
In this article, we'll traverse the different aspects of retrofit LEDs, the benefits, things to consider before buying one, and more.
What is a Retrofit LED?
Retrofitting LED
For lighting systems, retrofitting means adding newer lighting technologies to an existing fixture. So, you can change halogen or incandescent bulbs with LED retrofits when upgrading your space's lighting system.
However, the LED retrofit must match your existing lamp's socket. Otherwise, you'd have to replace the entire fixture. 
In short, LED retrofits must have similar dimensions and bases as their filament predecessors.
Types of LED Retrofits
Several types of LED retrofits and fixtures exist on the market. These variants are primarily available for corporate facilities, warehouses, offices, general use, retail stores, and industrial use. These retrofit LED types to have different functions. Let's take a closer look.
LED Strip Light Fixtures
LED strip light in the ceiling
These LED retrofits are pretty simple. Though minimalistic, they offer precise lighting over a work area at affordable prices. Some even call them "shop lights." these retrofit types are common in workshops and garages. Sometimes, you may find them in warehouses and storage facilities.
Further, these retrofit LED types can be permanent or replaceable.
Light Vapor Tight Fixture
Vapor lights feature a seal that offers protection from dust, moisture, and harsh weather. Also, they're standard outdoor lights and work exceptionally in dusty or wet environments like farmyards, parking garages, and manufacturing facilities.
LED Tubes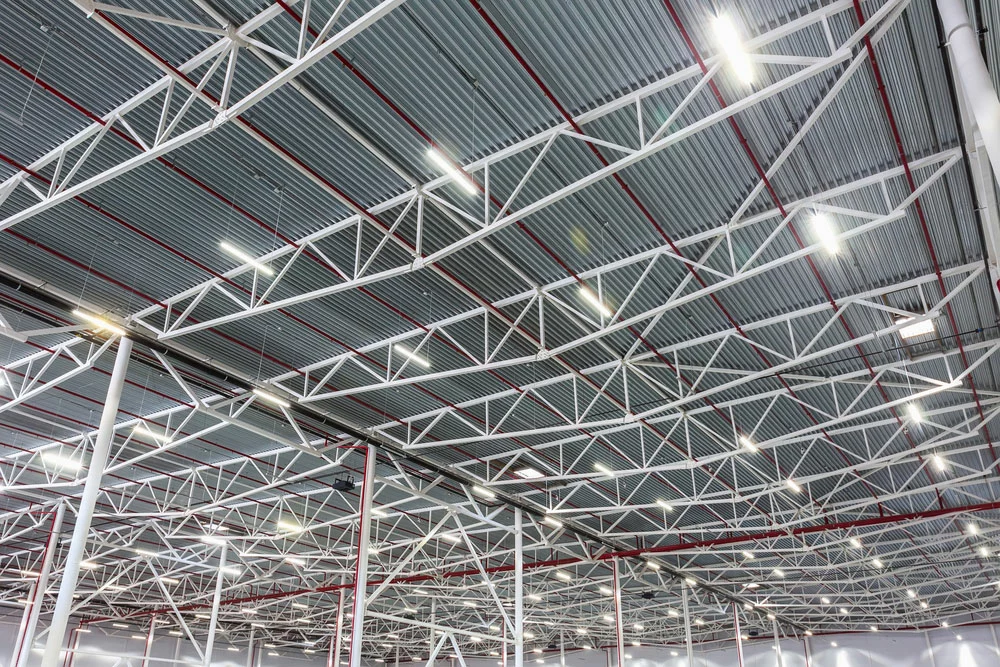 The LED tubes
LED tubes are the most common retrofit LEDs. Further, you can use these retrofits by removing old fluorescent tubes and replacing them with LED tubes–without changing existing light fixtures.
LED Troffer Lights
LED troffer lights are very similar to standard troffer lights. Primarily, troffer lights are office lighting options. And you can use these lightings without distorting your aesthetics.
Additionally, you can install troffer lights in drop ceilings, generating optimal light for working at cubicles and desks.
Benefits of LED Retrofitting
LED Retrofitting
Switching to retrofit bulbs offers all the benefits of LED bulbs to your existing home lighting system. Some prominent advantages include incredible energy savings and a lifespan of up to 100,000 hours. Other benefits include:
You don't need installation.
It's easy to replace retrofit bulbs.
How do you Retrofit LED Recessed Lighting?
Retrofitting LED recessed lighting.
Retrofitting LED recessed lighting is a bit different from regular fixtures. Before the installation, you'd need to consider the existing housing of the halogen or incandescent recessed lights. 
This quick guide works for five or six-inch housing. Also, it will work with standard or adjustable recessed lights. Here's how:
First, switch off the power and remove the bulb from the hollow housing.
Next, pull down the entire trim kit. Usually, two clips hold down the trim kit in the housing.
For most recessed lights, two metal tabs keep the light socket attached to the trim kit. Moreover, you can press it in to release it from the equipment.
Now, disconnect the adapter from your new LED recessed lights.
Then, screw the compatible end into the existing socket.
Connect the wires and look for two tabs inside the recessed lights housing.
Pull down the tabs (only pull them down if they're up).
Squeeze your spring clips, placing them in between your tabs.
Finally, push your lights into the housing and test.
LED Retrofit for Fluorescent Lights
Man changing fluorescent lights
Retrofitting your fluorescent lights for LEDs usually requires two paths. You can use LEDs with your existing fixtures or replace them with LED fixtures. However, these paths offer different options, depending on factors like budget, fixture location, and type.
Option 1: Retrofit your Fluorescent Tubes with LEDs Tubes
LED Tube
This option is cheaper than retrofitting your whole fixture. Though it requires some rewiring, you'll enjoy the benefits of LEDs. The rewiring aims to bypass the fluorescent ballast.
Further, the ballast saves about 10% of your fixture's energy draw. Hence, it makes your retrofit LEDs tubes more energy efficient.
Interestingly, retrofit LEDs tubes come in high-efficiency models. Also, depending on your LED replacement tube's rating, you can get up to 13,200 lumens.
Option Two: Retrofit with Magnetic LED Strips
Similarly, this option is cost-effective and eliminates the ballast from the fixture. These strips come equipped with an external driver, which allows for enhanced heat dissipation and airflow. As a result, they offer a longer lifespan and improved strip reliability. Similarly, this option is cost-effective and eliminates the ballast from the fixture. Ty.
Interestingly, you don't need extra wiring for this option. Instead, you have to connect your building's power to the driver. Then, connect them to the strips with the required cables (which should come with the package).
Also, these strips adhere to metal structures easily. So you don't have to hold them while installing.
Option Three: Retrofit with an LED-ready T8 Fixture
Although this option is more expensive than the previous two, it'll work with all LEDs tubes without rewiring. It's like plug-and-play. 
Also, the clean and new fixtures will give your space a new look. Additionally, the watts, lifespan, and lumens depend on your LEDs tubes.
Option Four: Retrofit with LED Troffers or Panel Lights
LED Troffers
With this option, you can keep your troffer aesthetics while retrofitting to a contemporary look. It's your go-to for replacing suspended fluorescent fixtures. You can also surface-mount some versions.
LED troffers offer well-dispersed lighting, eliminating any visible dim spots.
Option Five: Retrofit Fluorescent Fixtures with LED Fixtures
You can replace your entire fluorescent fixtures with LED fixtures for a sleeker and slimmer design. Also, you can surface-mount your LED fixtures or suspend them from wires. These fixtures don't need tubes and will provide more light output than their tubed counterparts.
Additionally, you won't replace your fixtures often, as LED fixtures have an impressive lamp life with enhanced dust and water protection.
Consideration during an LED Retrofit
It's easy to feel overwhelmed with the increasing number of LED options for retrofitting. However, here are three things you must consider to help ease the process.
What Matters the Most?
Several processes can drive the decision for LED retrofits. Beyond having a tight budget, you must consider other factors like maintenance, performance, and energy. In short, it's essential to decide which factors matter the most.
What are your Specific Circumstances?
Each application has its specific requirements and goal. Hence, knowing the needs of your application would be a big step toward LED retrofitting.
First, you must know what financing options, rebates, and offers are available, including everything from new bulbs and material costs to facility downtime. 
Find a Company you Trust.
Finding a trustworthy company is crucial if you want successful LED retrofitting. Quality and the varying technology factors are also things you must consider before choosing a company.
Examples of LED Retrofits
Building exterior lighting.
Sports facility lighting.
Subway lighting.
Parking garage lighting.
Street lighting.
Walkway lighting.
Parking lot lighting.
Rounding Up
Hand changing to an LED bulb
LED retrofits are the best way to upgrade the lighting system of your home or workplace. Also, it helps to reduce energy costs and offers more lumens than traditional fluorescent or halogen lights.
Retrofitting could also help you add a new look to your facility or keep your current aesthetics with upgrades. But before retrofitting your lights, it's crucial to consider the factors above.
What do you think about LED retrofitting? Feel free to reach us if you have any questions.