The proper lighting is essential if you want crisp, sharp images and videos instead of dull captures. Finding the perfect natural light can be a hassle whether you are a professional photographer or simply shooting a video for friends. Today's post will provide valuable insights into the topic of ring light vs. LED panels – explaining their uses and discussing the pros and cons of each so that you can make the right decision for your lighting needs. To know more about ring light vs. LED panel, visit LED Ask today.
What are Ring Lights?
Ring lights are donut-shaped lights with empty spaces in the middle. These lights may utilize multiple LEDs in a circular arrangement or a single lamp.
A man uses a ring light to light up his face for a Camera recording.
What are LED Panels?
LED panel lights get their name from their bar-like shape. They may be square or rectangular, with an array of LEDs attached to a base panel. These lights can be hand-held, tripod-mounted, or wall-mounted. 
LED panels installed in the ceiling of a room
Here is Why You Need Ring Lights or LED Panels
Have you ever wondered how your favorite celebrity looks good in their Instagram uploads or how that famous make-up artist can do such flawless make-up? 
Ring light vs. LED panel, this debate has sparked up due to the growing popularity of both these lights. That is all because of the flattering light they use. You need ring lights and LED panels if you want to capture outstanding pictures, perfect your make-up routine, or have incredibly dynamic video shoots.
But which one should you get?
An LED panel outside a restaurant
Ring Lights vs. LED Panels: Advantages
Both these lighting systems come with their applications and advantages.
Ring Lights
The fluorescent bulb in popular ring lights offers a softer brightness, making the images captured look almost 3D instead of being out of focus. All the light is on the object instead of illuminating the entire background.
These lights are portable as they allow camera mount and eye-level shooting, letting you capture dynamic shots whenever you desire.
No shadows are cast when using a ring light because of its circular shape. Your eyes glow while the natural light and your face stand out.
A ring light supporting a smartphone in its center
LED Panels
LED panel lights are perfect for wide-lens photography. Because they cast a bright light instead of a dim one, allowing you to capture a larger area.
This LED light panel produces high illumination, allowing you to capture distant objects. The pictures captured using LED panels are more detailed since the thing and area are lit up.
These panels work brilliantly during the day or in the presence of artificial lighting because they produce a bright beam. 
Ring Lights vs. LED Panels: Disadvantages
 Ring Lights
Since these lights produce a soft glow, they only work well in dim lighting and close-up shots to reap their full benefit.
You must stare directly into the light to get the glow in your eyes which can get uncomfortable.
Large cameras cannot fit in the ring light hole. Thus, you are confined to a small camera or smartphone.
LED Panels
Since these lights cast directional light, multiple panels must work together to remove the inevitable shadows on the object. It can get expensive and takes up a lot of room.
LED panels are not very portable owing to their larger size.
Unlike ring lights, LED panels to need prior experience to use effectively since setting them up to attain the perfect lighting can be challenging. They also provide no space for the camera inside them, which means that the camera has to capture any shots side-by-side.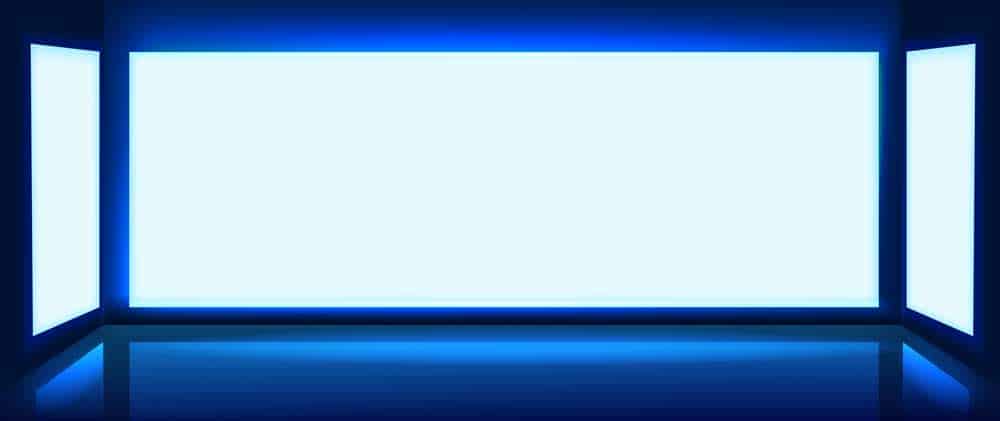 Large LED Panels light up a room
Uses of Ring Lights and LED Panels
The uses of modern ring lights and LED panels are common in photography and filming. Ring lights are a regular feature in recording video blogs, fashion photography, and high-definition shots due to their soft nature. Currently, they are in extensive use by make-up artists.
LED panels are the secret behind billboards' and neon signs' sharper and more vital brightness. Sports franchises, eateries, and factories use LED panels, both inside and out, due to their effectiveness day and night. Regarding the ring light vs. LED panel question, the latter also provides a visual display used in modern computers and TVs.
LED panels light up a concert stage
Which One is Perfect for You?
As the preceding paragraphs show, there is no rocket science behind the ring light vs. LED panel question. The decision depends on what you need the light to do. The ring light will be perfect for you if you are a blogger or YouTuber. You will be able to produce high-quality content and keep looking good!
However, if you are a budding landscape or wedding photographer, podcast host, or media personality, LED panels will be ideal for you. You will work in well-lit areas and need a bright light source to produce focused pictures and wide-lens videos.
A content creator uses a ring light during a shoot
The Top Ring Lights and LED Panels for You
The following is a list of the top lights for your needs.
Ring Lights
Razer Ring Light: This light is a 12-inch model suited to all your close-up lighting needs. Effective and budget-friendly! 
Lume Cube Cordless Ring Light: Another 12-inch entry, this light is cordless, portable, comes with an adjustable tripod allowing easy use, and has a ball mount. The Lume Cube offers excellent versatility.
Yesler 14-inch Dimmable Ring Light: This light is trendy among video bloggers since you can adjust the brightness levels. This adjustable light is 14 inches in diameter.
Ring light with ball-mount support
LED Panels
Razer Key Light Chroma: A flat LED panel, the Razer Key Light Chroma is ideal for content creators and photography, especially with wireless control from your phone and computer! 
Logitech Litra Glow: This affordable light model and convenient and portable due to its small size. The light can be mounted on your camera and even used with your phone. 
Lume Cube Lighting Kit: This is an all-in-one dual kit. Ideal as a desk lamp and provides perfect lighting for broadcasts and workspaces. 
Summary
There is no one victor in the ring light vs. LED panel race. Applied according to the proper use, each is perfectly capable of performing its task and will offer excellent results. If you have any questions or need further assistance, please don't hesitate to contact us!