Not all modern flat-panel televisions are the same. Although LED screens (monitors and TVs) are the most common type, shopping for a new screen can get confusing, especially since we're bombarded with many different abbreviations. For instance, what's the difference between a UHD and an LED screen? In most cases, UHD screens are just a variation of LEDs with a higher pixel count. This is the case for most panels and screens.  But is this also the case for DLED screens? LED vs DLED; the following guide will compare these panel types. It would help if you understood the differences by the end of it. 
LED vs. DLED: What are LED Screens?
LED array
The best way to understand LED screens is to compare them to LCD screens. When flat-screen TVs rose to prominence, most were LCD types. However, today, almost no screens fall under the LCD label. Yet, nearly every screen uses an LCD layer to transmit a picture. The difference is the light source. 
Traditional LCDs used cold cathode fluorescent lamps (CCFL) backlights behind a crystal display panel. LED screens use small light-emitting diodes as backlights. They also act as pixels. The key advantage of using LEDs in this fashion is you can actuate each LED and add real nuance to how the screen displays pictures.
However, manufacturers will arrange LEDs in different fashions to optimize the production of screens and allow for different price points. Thus, we can see the difference when comparing LED vs. DLED.
LED vs. DLED: What Are DLED Screens?
DLED screen in living room
Direct Light Emitting Diode (DLED) screens are modern full-array LED screens. The screens use multiple rows of LEDs to provide backlighting for the front LCD panel. Thus, LEDs and DLEDs aren't competing for products. Instead, DLEDs are types of LED screens in the same way OLED and Nano Cell screens are. DLED's true competing technology is the ELED.
Advantages and drawbacks of DLED
An array of LEDs in various colors 
Pros
Superior black and color uniformity
Great brightness and colors
Superior contrast ratios
Cons
More expensive
Heavier and bulkier than ELED-based screens
High power usage
LED vs. DLED: What Are ELED Screens
A collection of LED screens
Where DLED screens have rows of LEDs covering their entire back panel, manufacturers strategically place the LEDs in Edge Emitting LED displays. As the name implies, these manufacturers place the ELEDs across the four edges of the panel (sometimes only on two edges).
But how do they provide backlighting for the LCD front panel? They function almost like lasers by using diffusers and other light guides to project light across and to the center of the panel. These were the predominant types of LED screens before introducing cheaper full-array LEDs. When some people refer to LED screens, they mean ELED screens. Thus, when comparing LED vs. DLED, they typically mean ELED vs. DLED.
Advantages and drawbacks of ELED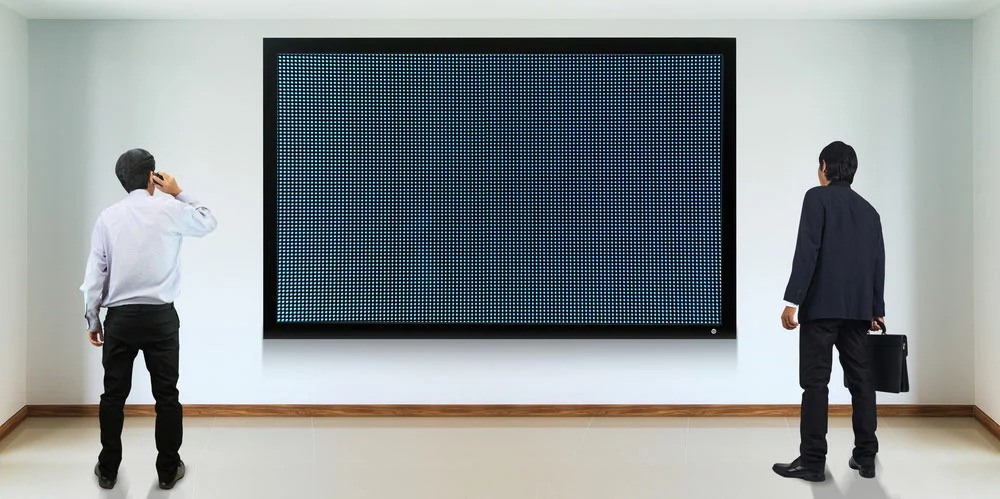 Business people standing in front of LED screens
Pros
More cost-effective than DLED screens
Cheaper to produce than DLED screens
Light-weight and allows manufacturers to build TVs and screens with thin frames
Low power usage (compared to DLED)
Cons
Does not offer good color depth or gradient handling
Non-uniform blacks and lighting
Poor and inconsistent local dimming
Backlights and screen bleeding are common
LED vs. DLED: A Tabular Summary of The Differences Between ELED and DLED
DLED vs ELED
DLED
ELED
LED Arrangement
Across the entire panel
Only across edges
Uniform Lighting and Darks
✔
High Power Consumption
✔
Cost Effective
✔
High Contrast Ratio
✔
Form Factor Size
Large/Thick
Thin
Conclusion
The best way to discern between ELEDs and DLEDs is by looking at the form factor and weight of the display. If it's bulkier and weighs more, it's more likely a DLED. The truth is that DLEDs outperform older LEDs in nearly every way except for cost and power consumption. Thus, if you're on a tight budget, you may be better off selecting an ELED screen. But if you're a gamer looking to enhance their visual experience, DLEDs are the way to go. So, LED vs. DLED – which one is better? The answer to this question depends on the consumer but by all accounts, DLEDs are the best.