Your closet space matters a lot. But does it have sufficient ambient lighting as you'd want it?
You require bright light while picking clothes which is why we care a lot about your closet lighting.
Hence, join us as we explore energy-efficient ideas for improving your clothes cabinet lighting. 
The Importance of Closet Lighting
A well-lit walk-in closet
A walk-in closet with sufficient lighting means you'll have it easy navigating around. Also, with adequate lighting, it's easier to organize the area better.
Further, lighting the closet improves its overall appearance. 
Conversely, a dark closet complicates locating things in the cabinet. Decluttering dark spaces can also be a daunting task.
Hence, for the best experience, having a lighting option for the closet makes the entire area more vibrant. 
Lastly, lighting is perfect for closets as it improves color distinctions when choosing clothes.
It also enables the identification of stains on clothes that would be otherwise invisible in the dark.  
Types of Closet Lighting
A walk-in closet
Here are some of the top closet lighting ideas. 
a.) Under-Cabinet Lighting
It entails installing lights in the cabinet. Although it is common in accessories, drawers, and jewelry cabinets, it's also a modern fixture in all storage spaces (even closets).
Such lighting is essential in enabling easy location of clothes and jewelry in the closet. 
b.) Recessed Lighting
It refers to a lighting system concealed in a ceiling hole. Thus, it naturally gels with the closet structures. It's a common type of lighting in most modern homes for closets and overall lighting.  
c.) Track Lights
The lighting technique features bulbs arranged in a track and is commonly used for decoration. Still, the lighting method can be valuable for walk-in closet lighting. 
d.) Chandeliers
They are elegant lighting fixtures ideal for larger walk-in closets requiring more illumination. Notably, a chandelier adds a feeling of classiness to the surrounding in addition to lighting the spaces. 
How Many Lumens Does a Closet Need?
A lit closet
Lumens indicate the degree of a lightbulb's brightness. The best way to determine the ideal lumens for a particular closet is through the following calculations: 
Ideal Lumens = Room square footage x Room foot-candle needs.
Foot candles refer to the brightness of a light source measured a foot from its location. The table below will guide you in identifying the optimal lumens for various closet sizes. 
| | | | |
| --- | --- | --- | --- |
| Closet Size | Size in Square Feet | Foot Candles  | Brightness in Lumens |
| Small Closet (4-ft & 6-ft systems) | 12 to 25 | 5 to 10 | 60 to 250 |
| Average Closet (8 feet system) | 30 to 80 | 10 to 15 | 300 to 1,200 |
| Larger closets  (10 feet systems) | 100 to 150 | 15 to 20 | 1,500 to 3,000 |
Popular Closet Lighting Options
LED vs. Fluorescent
Both fluorescent bulbs and LEDs are energy-efficient closet lighting options over conventional incandescent bulbs. But if you are after brightness, go for LED bulbs as they are brighter. Besides, LEDs are long-lasting and have no disposal reservations, such as hazardous mercury-containing lights. 
Additionally, LEDs can produce the flattering warm glow synonymous with incandescent lights. Their fundamental downside is their upfront cost which is higher than other bulbs.
Nonetheless, considering their load of benefits, they are a great option. 
Wired vs. Wireless Lighting
Wireless LED lighting
There are two options for closet wiring control: wireless or wired systems.  A wireless system is a good choice if you don't intend to cut the ceilings to install the wires.
It saves you from the electrical hardwiring requirements for wired lighting. 
Additionally, wireless light systems allow flexibility and enable you to customize the closet lights to your liking. 
Motion Sensor Lighting vs. Manual Lighting
Again, energy-saving motion sensor lighting can help you significantly cut costs.
They will turn on and off depending on if you are in the room, which boosts the convenience of use.
Besides, the automation of motion sensor closet lights also adds some style to the wardrobe.  
Nonetheless, if you're operating on a tight budget, you can install manual lighting that requires a light switch. But make sure to turn off the lights when not in use. 
Brightness and Color Temperature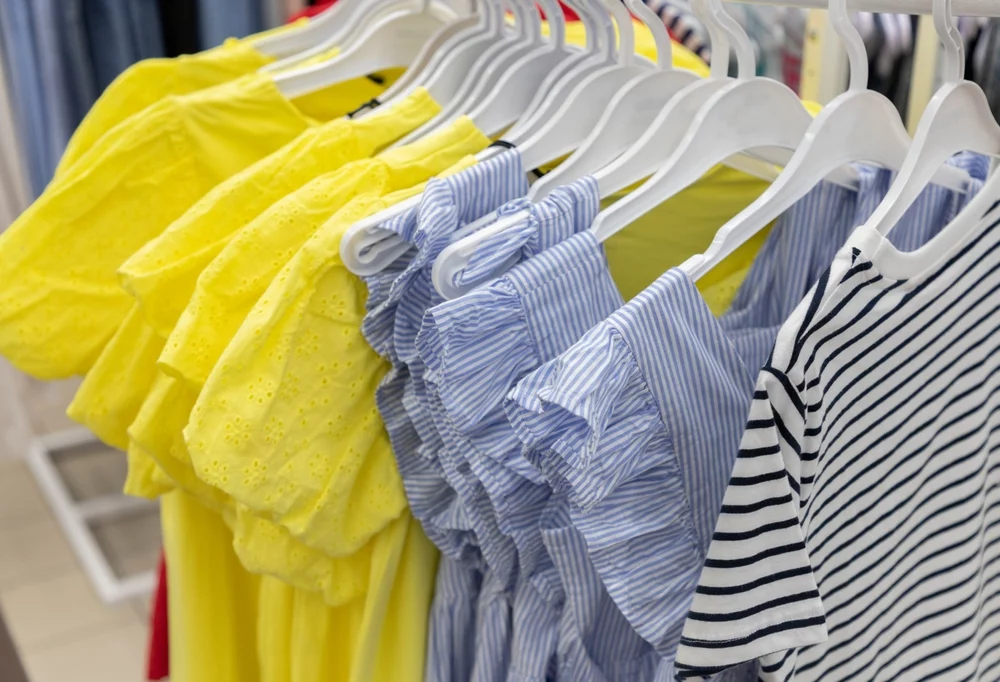 Cool white lights improve clothes visibility in a closet.
Above, we highlighted how to choose the ideal brightness (lumens) for your closet. Still, you need to choose the appropriate color temperature (light bulb tone). 
The unit for tone is Kelvin. 
If you want a warm yellowish tone, go for a bulb with 2,000 to 4,000 Kelvins. But, you'll need a ceiling light with 4,500 to 6,000+ Kelvins for a cool white light tone.
White light is best for distinguishing between cloth colors. But, a warm light will go soft on your eyes. Hence, the latter should be the best choice if you have vision problems. 
Best Lighting for Reach-In Closets
LED Strip lighting
Installing LED strip lights.
They are LED light strips on a cord that you attach to the wall via an adhesive. They don't need any prior hardwiring; all you need is to plug them into the wall.
Primarily, they are best for cabinet lighting in small dark areas thanks to their compact nature.
Also, the LED strip lights come with remote controls that help the user change their color and pattern.
Hence, they are an excellent cabinet lighting option for individuals looking for lively colors in their closets.
LED Puck Lights
LED Puck lights in a closet room.
These are oval LED light fixtures that give a centric and directional illumination.
You can install them on the closet wall sides to give a spotlight on clothes and other attire in the wardrobe. 
Also, some puck lights feature a dimmer switch, enabling you to set the desired closet ambiance and mood. 
Best Lighting for Standard & Walk-In Closets
The following are the perfect choice of light systems for closets measuring between 8 feet to 11 feet.  
Closet Lighting: Recessed Lights
Recessed lighting. 
As earlier mentioned, these will need hardwiring inside the wall or ceiling. However, they will take up minimal space and have a discreet design. It is essential as you don't risk hitting them when picking or arranging clothes. 
Primarily, consider having a series of low-watt recessed lights instead of a few high-powered types. This arrangement will improve the coverage and light output.
Also, when arranging clothes, ensure you leave a distance of at least 6 inches from the closet ceiling. And this is a fire safety precaution. 
Closet Lighting: Track Lights
Track lights shine where you need them. 
The advantage of track lights is that you can set them up to illuminate particular closet areas. Hence, for the best outcome, align them to face dark spots to help isolate cloth colors. 
Ideally, you'll find track lights in 10 feet, extra hanging systems, extra drawer systems, and extra shelving systems.
It is because larger walk-in closets have sufficient ceiling clearance, thus lowering the chances of a fire hazard. 
Chandeliers and Pendant Lights
Chandeliers hanging elegantly. 
A flush mount chandelier is ideal for the standard 8-foot closet. Both chandelier and pendant lights are picturesque and significantly improve the appeal of a closet and its surrounding. 
How to Choose the Best Closet Lighting
Many people will choose closet lighting by primarily considering these features: 
Ease of Installation
Size
Special features of the brands. 
For most users, the popular options for closet lighting include motion sensing, wireless, and track lighting options.
Also, many prefer LEDs primarily because of the longevity of the bulb. 
Lastly, users can choose hardwiring closet lighting systems, although some rely on rechargeable batteries. 
How Do You Install a Closet Lighting Fixture?
The installation procedure relies on the closet setup. You'll need to cut the drywall and set up the wiring system for wired lighting.
But others just need peeling the adhesive on the fixture's back and attaching the lighting onto the wall. 
The rule of thumb is to engage a professional if you're not conversant with the installation procedure. 
Summary
 A good lighting design will improve the overall outlook of your closet. As we have seen, there are loads of closet lighting options.
Also, for the best experience, you must pick the proper lumens for your closet. That's all for now but talk to us for more closet lighting ideas.