Solar energy is quickly becoming the go-to option for homeowners and businesses across the country. It's affordable over time and helps you reduce your carbon footprint. The Federal and Washington State governments have taken several measures to make solar power more attractive to citizens. This article will guide you on the details of the national and Washington state solar incentives and why they benefit those who want to go green.
Federal Investment Tax Credit For Solar
The Federal Investment Tax Credit is a capital refund system that aims to reduce the cost of installing solar panels. Congress first enacted it in 2006, with the government refunding homeowners and businesspeople up to 26% of the total solar power installation costs. These refunds come in the form of tax credits. The credit system would have expired in 2024, but congress renewed it up to 2032 with an improved credit of 30%. After 2032, ITC will decrease yearly to 26% in 2033, 22% in 2034, and 0% in 2035.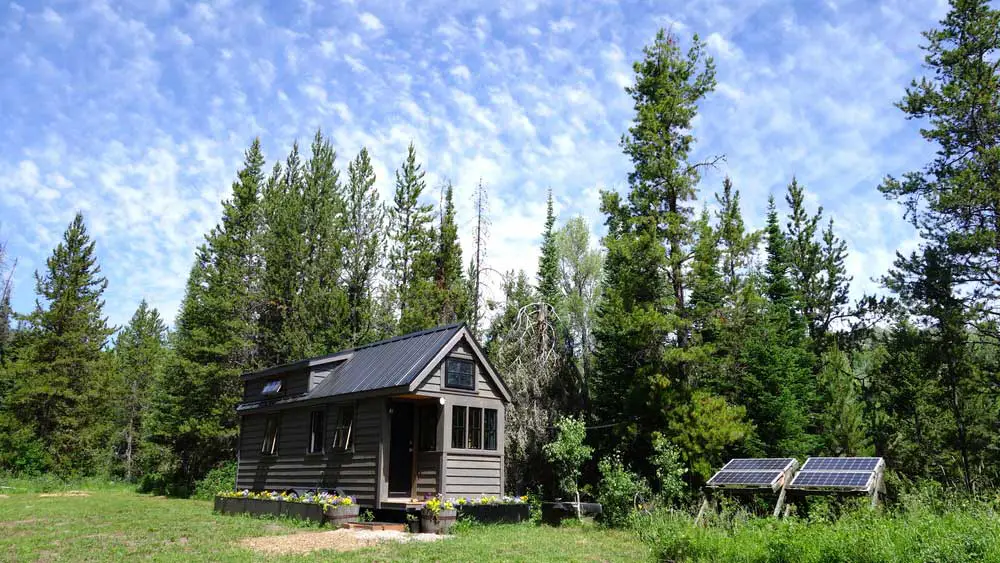 An off-grid home
The federal investment tax credit for solar is available for commercial and residential solar installations. You can use it to offset the cost of installing panels on your home or business property, so long as you produce energy that goes directly into your electric utility grid and not to an off-grid system. However, the ITC only applies when you have outrightly bought the system. You're not liable for the federal tax credit if you leased your panels or got them through a power purchase agreement. 
The tax credit works by refunding 30% of the total amount you spend on a solar system. If you bought your solar system for $15,000, you are liable to receive $5,000 in Federal Tax Credits. Therefore, if you owe $3,500 in taxes, the credit remainder will roll over into the next financial year.
Washington State Solar Sales Tax Exemptions
The state government is even more supportive of going green with solar power. Its solar tax exemptions cut the price of Washington state solar panels by 7% to 10%. This price cut is a big incentive for solar power because it allows you to save on state sales taxes during installation. The more you save, the sooner your solar panels can pay off your initial investment.
Solar equipment that generates less than 100kw of power is state tax-free. A typical home needs 5KWh of power to function.  The 2022 no-cost solar program in Washington state means residents can buy solar systems and install them without incurring sales tax. This solar panels Washington state price exemption runs for ten years starting from 2019, meaning you can buy new parts for repair and even add more panels in Washington state at a subsidized cost up to 2029. In the same breath, the state also applied a 50% sales tax exemption to solar systems generating between 100 and 500 KWh of energy.
When the state calculates against a sales tax of 6.5%, you save $1,950 if your solar system and installation costs add up to $30,000.
Net Energy Metering
One of the Washington state solar incentives is Net energy metering (NEM). NEM is a billing arrangement that allows you to 'sell' excess energy back to the utility grid. Depending on the size of your solar power system, you may be generating more electricity than you can consume. 
This is especially evident during the day when solar power generation is at a premium, yet the electricity you use is minimal as you're either at school or work. Therefore, NEM allows you to transfer the excess power to the national grid in exchange for credits which they will subtract from future electric bills.
A solar-powered home that is still connected to the national grid
This arrangement is super beneficial, especially in places where the winter months are cold. Heating the house raises your power bill. At the same time, your solar panels are barely generating any power because of the little sunlight in this season. All the credits you gained during the summer will help subsidize your power bill. 
Being one of the most solar-friendly states in the country, Washington offers an equal credit exchange for solar degenerated power transferred to the state grid. This means that if you transferred 2,000kKWh of your excess power into the grid at the same, you get the same credits subtracted from your power bill by the end of the year.
Other State Tax Incentives
The Washington state solar incentives can only do so much in lowering the cost of solar power. Other industry players have also come in to lend a hand in making solar power systems and installation affordable. 
Seattle City Light
Power provider Seattle City Light offers its clients a 1-for-1 credit exchange for their excess solar power. This means you'll get paid as much power as you transfer to the utility grid. However, these credits expire annually.
Subsidized loans
Clients of power provider 'Clarks PUD' are liable to receive subsidized solar system loans. They can get up to $30,000 at a 3.5% interest rate.
Washington State Commercial Tax Incentives
The state has not left out businesses in its Washington state solar incentives plan. The following legislations have been created solely for business owners.
Modified Accelerated Cost Recovery System (MACRS)
Modified Accelerated Cost Recovery System (MACRS) is a depreciation method for capital assets. MACRS applies to solar power systems installed on your property and lowers the taxes you pay over time.
USDA Rural Energy For America Program (REAP) Grant
The Rural Energy For America Program (REAP) grants funding for energy efficient improvements, renewable energy systems, and other energy-related projects to agricultural producers and rural small businesses. Businesses can use REAP grants for new or existing renewable energy systems. Funding for the REAP program comes from the U.S. Department of Agriculture (USDA).
Regulations to Follow Before Installing a Solar Power System in Washington
Seek Local Government Inspection
The local government will inspect your solar system to ensure it is safe and meets the code. They will also issue a permit for the system, which state law requires. If you have an installed PhotoVoltaic system in Washington State, it is a good idea to know what type of inspections your local government requires before taking further steps.
A licensed electrician must install all solar PV systems
A technician installing a solar power system
No matter how much you know about installing solar systems, you must have a licensed electrician install your system. All the wiring, equipment, and connections must meet the National Electric Code (NEC) requirements. The local government will inspect your solar PV system to ensure it meets NEC requirements before issuing an electrical permit.
Contact Your Utility Company for Meter Changes
You may not install your electrical meter or change your existing meter. You will require the Utility companies to perform this work for you. If you're installing a solar system, you can only have the utility company put a new meter to replace the old one. It is illegal for anyone else other than an approved electrician to perform this work.
Is Solar Worth It in Washington?
Solar power is an excellent investment that can save you money in the long run. In Washington, the average payback time for all the costs associated with a solar system is slightly less than 13 years. This means that if you invest in a solar power system today, you will finish paying for it just as the Federal Investment Tax Credit For Solar expires in 2035.
Compared to previous years, Washington state solar incentives 2022 benefits such as NEM and tax exemptions make this a great time to invest in solar energy. Legislations that provide for solar tax exemptions come with a timeline, and the government may choose to keep some and end others. Consequently, take advantage of the current political goodwill towards green energy and get affordable solar equipment. 
Summary
Whether a resident or a business owner in Washington, switching to solar power makes economic sense. Hopefully, we've inspired you to consider solar power for your home. But don't just take our word for it. Shift to solar and experience the change on your power bill. You'll be able to give back to the community by transferring power back to the grid and also reduce your carbon footprint. Take advantage of federal and  Washington state solar incentives that have lowered the price of solar systems and make the switch today.